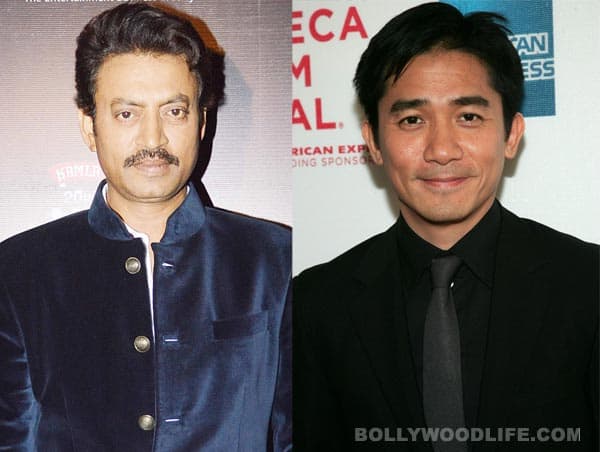 The Indian actor won the honour at the eighth edition of the Asian Film Awards at Macau
It was India shining at the 8th Annual Asian Film Awards at Macau with Irrfan Khan winning Best Actor for The Lunchbox, beating fancied local contender Tony Leung to the gong. Leung was up for The Grandmaster, Wong Kar-wai's turgid martial arts epic that clearly demonstrated to the world that the erstwhile grandmaster of Asian cinema has lost the plot. However, locally, Kar-wai still appears to be the flavour and juries blind to the deficiencies of the bloated and senseless film, as the Asian Film Awards rewarded it with no less than seven awards including Best Director for Kar-wai and Best Actress for Zhang Ziyi.
There was further cheer for India with Ritesh Batra winning Best Screenwriter for The Lunchbox. Irrfan said, "I am grateful for the moment which give inspiration to my director and writer to write this script and to write this story."
Shankar-Ehsaan-Loy were nominated in the Best Composer category for Bhaag Milkha Bhaag, but they lost to Shigeru Umebayashi for, you guessed it, The Grandmaster.
Meanwhile, The Lunchbox has expanded its US footprint and is now playing in redneck areas. And even hick-town America, best known for inbred, mouth-breathing audiences, has reacted warmly to Ritesh Batra's universal tale.
The Philadelphia Inquirer says: "If there's a soul out there who exits "The Lunchbox" without a smile, without a tear in the eye, I'd like to meet that person." The Lunchbox has also been chosen as the opening film of the Spring Film Festival at Tunkhannock, Pennsylvania.
The Seattle Stranger describes the film as "sweet, rich, and complex", while Austin 360 proclaims, "If it weren't for the very Mumbai-specific plot machinations, it is easy to picture it remade for an American audience starring Tom Hanks and Emma Stone." However, the Houston Chronicle says, "It never really transcends its gimmick." Clearly, in a state where they brand their steaks with a hot branding iron before eating them, they forgot to take their medication in time.
The celebration of Indian cinema continues in Switzerland. The Zurich Film Festival brings in its 10th anniversary by choosing India as its New World View section guest. Festival co-directors Nadja Schildknecht and Karl Spoerri said, "New Indian cinema has experienced an upsurge in recent years, and not just on the subcontinent. New projects have been realised over the past few years that undermine common stereotypes. The movement from mainstream to independent cinema is unmistakable. This development is incredibly exciting."
The festival showed The Lunchbox in 2013.