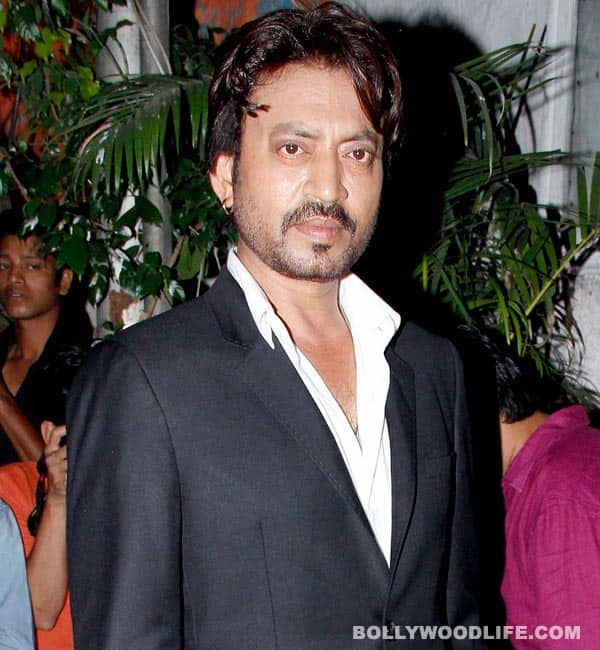 It wouldn't be an exaggeration if we said that Irrfan Khan is the lone superstar in the offbeat cinema genre today courtesy his terrific acting!
From television to Bollywood and then Hollywood, Irrfan Khan has come a long way. He is a popular face in the West, one of the best actors in Bollywood and with Ritesh Batra's The Lunchbox, Irrfan has proved that you don't need a massy commercial film to guarantee box office success. When we caught up with the talented actor, what really impressed us was the fact that he speaks his mind without fearing what others would think. Something you don't usually expect from a celeb, right? Find out what he thinks about The Lunchbox, his Cannes Film Festival experience and much more….
Why The Lunchbox?
I got a film after a long long time jisme I could explore my romance (smiles). I do such stories 'coz I want them to stay with the audience. That is the kind of effect we need. I became an actor 'coz even I use to watch films and there were certain characters that would stay with me for a long time. Woh emotions, rishte, sab yaad aate rehte the mujhe and that is what attracted me to The Lunchbox. I want to do films that can become part of people's lives.
Your film received a phenomenal response in Cannes this year and after the premiere you were teary-eyed. Tell us your experience…
Even I was watching the film for the first time and main kahaani se judne laga. What was interesting about Cannes was that during the first screening, a few people left even before the film got over. And Ritesh Batra got concerned thinking, people aren't liking the film. That's when a French producer told him that these people are buyers and you should be happy that they are leaving early, coz they want to line up and buy the film before anybody else does! And this was the first time that a film from India had gone to Cannes and within one night it was sold all over the world! Studios were lining up and saying please, hume de do. We were thinking, who would buy in America, because it is the biggest territory. We thought either Fox Searchlight or Sony Classics would pick it up. And before we showed the film, Sony bought it! So that is something unique. We realised that our film has a universal language. So I hope this time the right movie goes to the Oscars from India. At least thoda safar toh kar sake Oscar mein, warna to shuru hua and wahin khatam ho gaya….
You have co-produced the film. Was that pre-planned?
Nahin… wo dheere dheere hua. I wanted to turn producer any which ways and when you believe in a story, you want to control it so that you can release it the way you want. There are time when the release gets delayed and aapko pata nahin hota kab hoga, kaise hoga. So when you do such films, you want to own them.
Did you instantly say yes to The Lunchbox?
Yes, I instantly agreed to do the film. The only thing was, I had to again play an old age character, work on my face and make my body feel like it's old. When I did Namesake, it was difficult for me to detach myself from old age. It's not easy, because the memories stay with you. And that is not a good feeling.
Did you expect The Lunchbox would receive this enormous positive response?
The market of this film is the entire world. Ek country iska fate decide nahin karega. And it's a small budget film and the way we marketed it, we have already recovered the money. So ab jo bhi hai, iska fayda hi fayda hai. We just hope the film reaches as many people as possible.
Do you think 'coz Karan Johar is part of the project, the film has become more visible?
Nahin… actually Karan Johar ki charcha iss film ki wajah se ho rahi hai. He is part of the film not because the film needed him. He decided to associate himself with the film 'coz after watching it; he was in love with The Lunchbox. The thing is everybody wants to be part of this project now. Obviously, we will get help from Karan and it's a good sign that a filmmaker belonging to a completely different genre is eager to be part of another kind of film.
What was it like working with Nawazuddin Siddiqui, who is a character actor like you?
Today a lot of different actors and directors are coming into the industry. After a long time people who have the drive to do good cinema or make good films are entering Bollywood. So it's good working with such people. Besides Nawaz, there is Deepak Dobriyal, Randeep Hooda and actor Raj Kumar Yadav, who are very talented as well.
You have done many offbeat films. Do you consider yourself the torchbearer of art house cinema?
I don't believe there is anything like 'art house cinema'. It's a commercial art. If there is no art in the commerce, then such films wouldn't be talked about. It's a coincidence that films that I have worked in have become most successful for their respective directors – whether it is Slumdog Millionaire or Tigmanshu Dhulia's Paan Singh Tomar or Vishal Bhardwaj's Maqbool. So ye ittefaq hai! I want to do engaging films, so I don't see whether it is art house or any other kind of cinema. I don't like boring cinema – after all this is a medium to entertain and engage people.
When you read a script, what attracts you to a character?
Main ye dekhta hoon ki muje ye character zinda karega ya nahin. Also, I try not do the same kind of role again and again. In The Lunchbox, my character had lots of emotions that I liked and so I agreed to do the film.
Is it tough to say no to filmmakers since you are amongst the most-talked about actors today?
Kahaani acchi lagni chaiye…warna haan bolna utna hi easy hai mere liye, jitna na bolna.
Have ever paid a price for your stardom?
It's not a big price actually. Sometimes I want to walk and go to places, but I can't. Your privacy gets affected. Also, for me, being popular doesn't mean showing others that I am better than them. For me being popular is being able to share my dreams, khushi, dard with the audience. And kahin baar logon ko unki zindagi ke bare mein jaagrit kar sakun, yehi meri iccha hai.