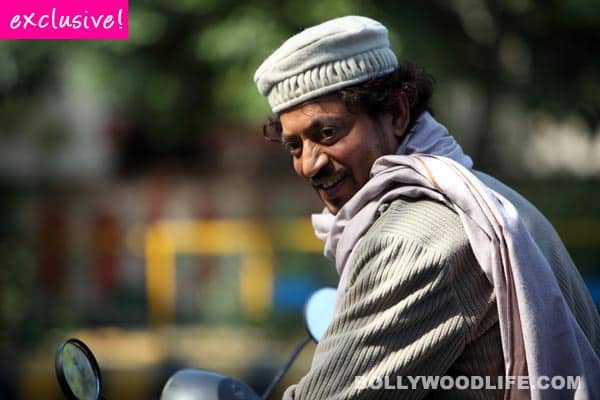 Indian cinema's unofficial brand ambassador abroad talks about his new action thriller D-Day, playing a RAW agent, working with Rishi Kapoor, contemporaries Anil Kapoor and Amitabh Bachchan, awards and why he won't be a baddie in a superhero movie…
From Salaam Bombay! to Paan Singh Tomar, his has been a really inspiring underdog story – one that has now reached Hollywood. After Slumdog Millionaire, The Namesake and Life of Pi, he has become one of the most recognisable Indian talents in the West today. A thinking woman's sex symbol, Irrfan Khan is famous for his straight faced comedy and intense cynicism. Though his award-winning performances have intrigued many, recognition had eluded him. "But that will soon change," insists Khan. On the eve of the release of his new action thriller D-Day, Khan opens his heart exclusively to BollywoodLife…
What challenged the actor in you to do a film like D-Day?
When Nikhil (Advani) narrated the script, I could see possibility of D-Day coming close to the level of a Hollywood film – in terms of narrative, technical finesse and credibility. We make films on real life subjects and personalities, but we don't really delve deep enough or explore it fully and in the correct manner. Nikhil's intention was to show the lives of RAW agents at close quarters – how they operate and what all they face. The spy genre is liked by all. So I thought it would be an experience doing the film. Plus, Nikhil managed to get on board popular stunt director Tom Struthers (Dark Knight) and he trained us (Irrfan and Arjun) for a couple of weeks. D-Day has action sequences you will have never seen before in any Hindi film.
Nikhil Advani doesn't have an encouraging track record as a filmmaker. Did that worry you?
When we met, he said he wouldn't talk, just narrate the script. I liked his narration style, after which I realised the speed of the film is good and very engaging.
Were you given a choice between yours and Arjun Rampal's characters?
No, Arjun was in before me. I think D-Day could've easily gone into the space of quintessential Hindi cinema, where we glamourise grey characters. We might have lost the true essence of the film – but that didn't happen. In today's time, the audience has become smart, as they are exposed to world cinema. So they expect fresh, credible, engaging yet entertaining cinema from Hindi filmmakers.
D-Day is said to be based on real-life gangster Dawood Ibrahim, and the struggle to bring him back to India. On a personal note, was it a learning experience to understand harsh realities of our judicial system and why we failed to bring Dawood back to India?
We spoke to RAW and several intelligence agencies and asked them why some operations failed, but they refused to comment. We learned some shocking facts about spies – how they operate, the difficulties they face, their necessities and limitations. The RAW and intelligence agencies were quite happy with the film, but were equally surprised as to how we managed to get real information and learn how they operate. D-Day is as close to reality as it could be. The film will give our system some inspiration to evolve.
Do you mean the film could change the existing work pattern of law and order?
It's an inspirational film. There's no need for learning. The RAW agents and intelligence agencies know their job well. They have their own limitations and pressures to cope with. Just imagine their duty and level of risk they take! They don't even get noticed.
Did Rishi Kapoor surprise you as Dawood?
Oh yes! He's a complete revelation. Initially I wasn't sure whether Rishiji was the right person to play Dawood, but after the look test, everything was clear. Nikhil and the casting department have done a fantastic job. I'm glad Rishi saab is getting more interesting roles to play at this stage of his career.
Considering your body of work in the West, do you think you're way ahead of your contemporaries, the mainstream commercial actors Anil Kapoor and Amitabh Bachchan?
I never compare myself with other actors. Every actor has the right to create his or her own space. I've successfully created my space in Hollywood. The credit goes to the audience and filmmakers who have been kind and appreciative of my work there. Comparisons won't take you anywhere.
While talking about Bollywood actors' inclination for Hollywood films, Amitabh Bachchan said in an interview with us not so long ago – 'Agar kuch galat karna hai, toh yehi karenge… apne audience ke saamne, Hollywood kyun?' Your comment…
He's such a fine actor. I think it's Bachchan saab's modesty to say that. We know what he's capable of.
You won a National Award for Paan Singh Tomar. But were you upset, considering that the inspiring film couldn't fetch any mainstream Bollywood awards?
Certain section of the media are still struggling between art and commercial cinema. Paan Singh Tomar was a commercial, entertaining and engaging film. If they feel that PST is art cinema, so be it. Art cinema is making bridges. In today's time, there's no concept like 'art' or so-called 'art cinema'. I'm hopeful the Oscars committee will choose a sensible film that could travel to the Academy Awards.
You played villain in Spiderman 3. Do you think Indian filmmakers are wary of casting you as the negative lead in a superhero film?
Bollywood and Hollywood work differently. I have different positions in these two different industries. The decisions I take in the West, I wouldn't take here. You cannot compare them. I won't play villain in a Bollywood superhero film even if there were offers. Spiderman was something we have been hearing about since childhood. So you have a different association and keenness towards it.
Is it because we tend to glamourise everything on screen here, including a villain?
Yeah, but we don't glamourise villains the way Hollywood does. Their writing is layered, the scale and level of their movies is much greater. Our writing hasn't reached that level and is very basic. Sometimes I feel we do injustice to commercial cinema, as we don't delve into that subject we intend to create. But all that is changing. The new generation filmmakers like Anurag Basu, Anurag Kashyap, Tigmanshu Dhulia and Dibakar Banerjee, among others, will bring a new change in cinema.
In your quest of doing cinema and roles you like, you disappoint your fans – the mass audience – who loved you in comedies like Thank You. Any comedy on the anvil?
I'm desperately waiting to do a comedy. Most importantly, I want to do films that can take me and Bollywood forward, rather than doing cinema made only with the intention to make money.