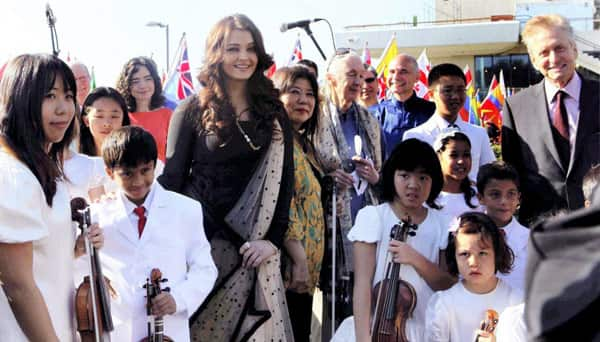 The prettiest lady in Bollywood seems to be content with making non-film appearances and being associated with causes these days
We have seen and heard how motherhood changes a woman, and we're wondering if actor Aishwarya Rai Bachchan is going through the same hormonal changes post Aaradhya's birth. Mommy Ash just does not seem interested in her career any more!
Voted one of the most beautiful women on earth several times in various polls, Aishwarya is currently living in her own little world with her baby girl Aaradhya. Spending all her time taking care of her daughter and nurturing her, it seems Ash is neglecting her own fitness – which actually brings home the point that for another year or so, the former Miss World is not going to be bothered with her sagging Bollywood film career. She is happy making raking in the moolah endorsing products. And, more importantly, appearing at events in USA, Europe and the Middle East, slowly making her presence felt internationally and getting kudos with each visit for being a woman, truly, of substance.
And just before Aishwarya headed to Chicago with Aaradhya and to be with hubby Abhishek, she was seen in New York with Hollywood actor Michael Douglas. They were at the United Nations headquarters with Secretary-General Ban Ki-moon to celebrate the International Day of Peace. Ash said, "Peace is the call of the day, has been and will always be." We hope she meant that for inner peace too, which wethinks she is seeking right now.
Also, she has been signed on as the goodwill ambassador of UNAIDS with a special focus on eliminating chances of HIV/AIDS among children with infected parents. Where do you think Aishwarya career is headed?