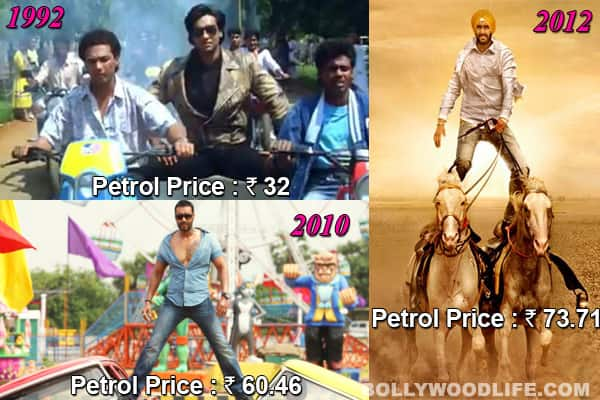 The Singham star seems to be feeling the impact of rising fuel prices….
Frankly, this idea isn't original; we saw it on Facebook. But it is so worth sharing!
In the good ol' days when he was Ajay Devgan with 'A' in his last name, he made an entry into Bollywood balancing on two motorcycles. His position as an action star was cemented. After a few coughs, the Singham star found his space and a massive fan following over the years.
In 2010 Devgn upped the ante in director Rohit Shetty's Golmaal Returns. He made a jaw-dropping entry balancing his bulky frame on two tilted cars. The audience lapped it up and the film went on to make over Rs 100 crore at the box office. So when we saw the morphed image of Devgn's journey over the years, we couldn't help but giggle. Being the producer of Son Of Sardaar, is he doing his bit to save energy, save fossil fuels, save money, save the environment? Was he spoofing his own image at the risk of getting into trouble with PeTA?
What do you think?
ALSO READ: Has Ajay Devgn befriended Salman Khan to take on Shahrukh Khan this Diwali?