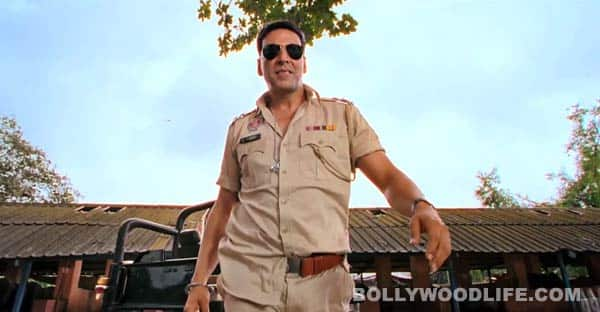 We've seen Rowdy Rathore, Dabangg and Singham. And now the filmmakers want us to gear up for Akki's Khiladi 786 and Special Chabbis. Should we?
Yes, we know that moustached police officers are probably the most 'in' thing in the Hindi film industry right now. But looking at how movies are increasingly steering the khaaki way nowadays, we wonder for how long this craze will last. And what makes us think about it right now is the fact that Akshay Kumar, the Khiladi of B-town, seems to be somewhat stuck to this very genre.
Hmmm, so what gives? A short while ago, we happened to watch Khiladi 786's official trailer that showcased Akki slaying the goons with his cool but stale punches. Stale because it was like a déjà vu stemming from Rowdy Rathore, Dabangg and Singham. Don't you agree, readers?
If that wasn't enough, Akshay is coming up with yet another movie, this time Neeraj Pandey's Special Chabbis that again revolves around the (sigh!) khaaki vardi and loads of action. And what makes it even more banal is the fact that the storyline of SC – conmen dressed as police officers trying to pull off a heist – is uncannily similar to that of Khiladi 786 where AK will attempt to dupe people by showing off his fake police uniform. The only difference, we are being told by alert birdies, is that the latter is purely fictional, while Pandey's movie is based on the real life story of Mon Singh who made headlines by looting a famous jewellery store in Mumbai in 1987.
Still, in the end it's the khaaki and dhishum-dhishum, no? Perhaps. And so the 'yawn' threatens to break out for this one. But while we stifle our boredom, tell us, dear readers – do you want to watch Akshay Kumar in yet another policewala dhishum-dhishum avatar?