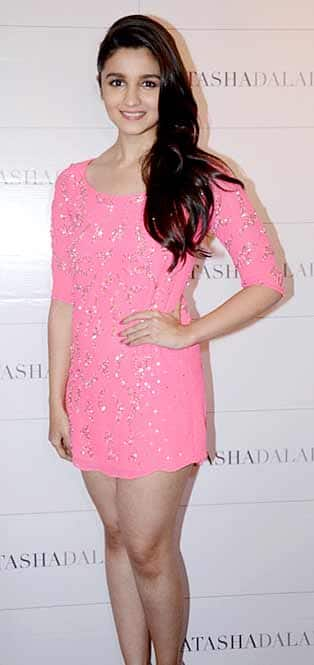 skip advertisement
The Highway gal manages to surprise us with her difficult to decode style statements. Sometimes Alia overwhelms us with the attitude with which she carries herself and then she suddenly lets us down sartorially with those 'oh-what-the-freak' moments. Take a look!
She is young, irreverent and absolutely effervescent. Alia Bhatt has brought in a breath of fresh air with panache and oodles of attitude which she wears on her starry sleeve seamlessly.
The 21-year-old uses her petite frame, bordering-on-arrogance body language and oodles of cheerfulness to best effect to grab our attention. But sadly-and quite unfortunately-the little daughter of film maker Mahesh Bhatt has not impressed us hugely-and more importantly consistently- with her hate sartorial sensibilities.
Frankly speaking, the Student Of The Year actor has tremendous potential to make style statements considering her body type, her youth and the lineage she inherits. Style does come to her naturally, we must say, but the gal doesn't quite get the mix right when she steps out.
She has surprised us sweetly with the colour coding, the texture and the asymmetrical dressing preferences she has been sporting-which is great-but she has also let us down repeatedly with not getting the blend right.
If she was a complete head turner when she wore some really refreshing teeny-weenky skirts and cocktail dresses, she also disappointed us when she wore puff-sleeved Victorian outfits that did not look too impressive. Apart from the clothes, the babe also needs to experiment a bit with her hair ( plain wavy look is boring Alia!) and accessories to look even smarter.
We love the way Alia eases up on jewellery and keeps her look de-glam and minimalistic mostly, so young girls can look up to her and emulate her effortlessly. And that's a perfect strategy Alia has adopted-knowingly or otherwise- to keep herself on the fashion map to emerge as a style icon. But Alia darling, you should take your style a little more seriously as we love you dearly for the way you make us go wow occasionally!
Alia, in our opinion, has it in her to be the young fashion diva and a true fashion icon in the truest sense of the word, but she certainly has a long way…errr Highway to go. Don't you agree Bollywoodlifers?