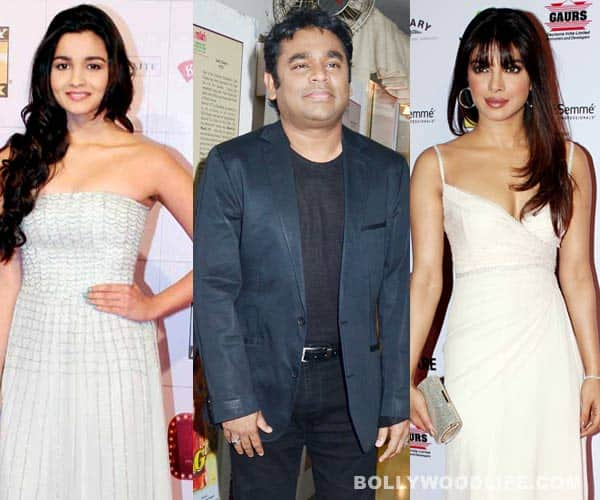 Yogen Shah
The Highway actor has a special request from Oscar winner AR Rahman. Read on to know what…
Alia Bhatt's recent release, Highway has been gaining popularity with every passing day, but there is something unique that the leading lady of the movie is planning to do, to celebrate the release. The Student Of The Year actor always considered herself a bad singer and never thought of pursuing a career in this field. But after listening to herself in Soona Saha, the 2 States actor wants to join AR Rahman's music academy and learn the nitty gritties of singing. It seems she has already spoken to the music maestro and is just waiting for the Mozart of Madras to give the green signal. So is the petite actor trying to go the Priyanka Chopra way? We wonder…
Highway movie review: Alia Bhatt and Randeep Hooda starrer has everything, but a strong and believable story line!
Talking to a leading daily, Alia said, "It was an out-of-body experience for me as I found myself in his (AR Rahman) recording studio with a headphone and a mic in front of me. I now want to learn singing and I want to join his (AR Rahman) music school in Chennai. What's more, my sister Shaheen loves music too. Both of us may go there and learn music together." She continues to say that she had never imagined that she could be a playback singer but it was because of Imtiaz Ali's push and AR Rahman's guidance that she achieved the feat. She considers PC to be an inspiration to other actors who want to go ahead and pursue singing.
Priyanka Chopra and Pitbull all set to go Exotic!
But will Alia be able to take time out of her busy shooting schedule to learn the art? She retorts by informing that she would take short term courses and definitely "make time for it." Now we can just hope that she is able to juggle between the two properly. We have heard Piggy Chops being vocal about how hectic her schedule is and how she keeps juggling between New York and Mumbai because of her love for music. We hope Alia is ready for such a busy learning experience ahead!