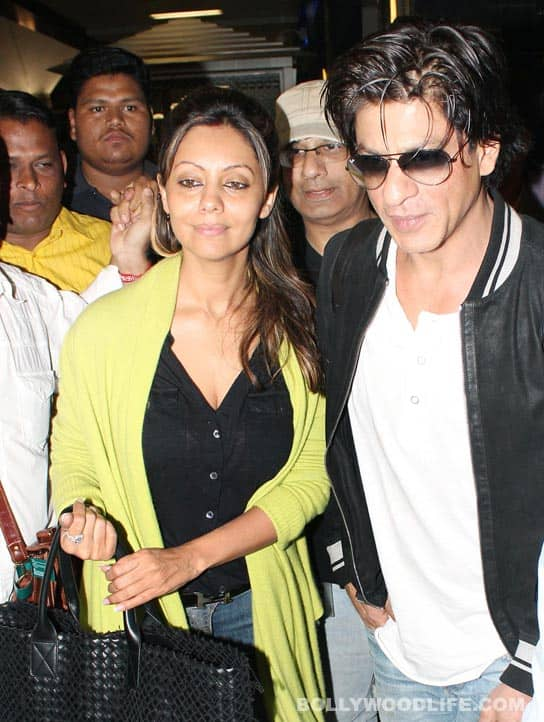 Things are hunky-dory between the two, or that's what it looked like when we spotted them at the airport returning from Zee Cine Awards held at Macau

The couple looked pretty much at peace together, posing for the shutterbugs and greeting everyone with a pleasant smile. Seems like all the controversies and rumours about King Khan having an affair with Priyanka Chopra are working in favour of strengthening B-town's most talked about couple's relationship. Despite the fact that PC and SRK hosted the award function together, wife Gauri didn't have a single trace of worry on her face and looked quite unaffected with all the brouhaha surrounding her husband's alleged infidelity. One of the reasons could be that King Khan did everything possible to keep his wife happy at the award function, which is why the two were spotted in an extremely romantic mood at the after party of the show. Now some say the Don 2 co-stars are nothing more than good buddies, while other industry insiders are cock-sure about something brewing between the two. Also, rumours suggest that Gauri and SRK's common friends have been playing an integral role in warning Mrs Khan, filling her head with all kinds of ideas and asking her to keep an alert eye on her hubby. And maybe Gauri is following all their suggestions quite diligently, which in turn is resulting in a certain awkwardness between the so-called 'best buddies' (SRK and PC) lately. We presume that Gauri is simply playing her cards right, so there can also be a possibility that these stories are all cock-and-bull and everything's actually hunky-dory between Mr and Mrs Khan.
All we can say is that we are just waiting for the next clue to pop up to show whether Shahrukh and Priyanka are actually having a wild affair, since we would prefer to let genuine evidence prevail over wicked assumptions.