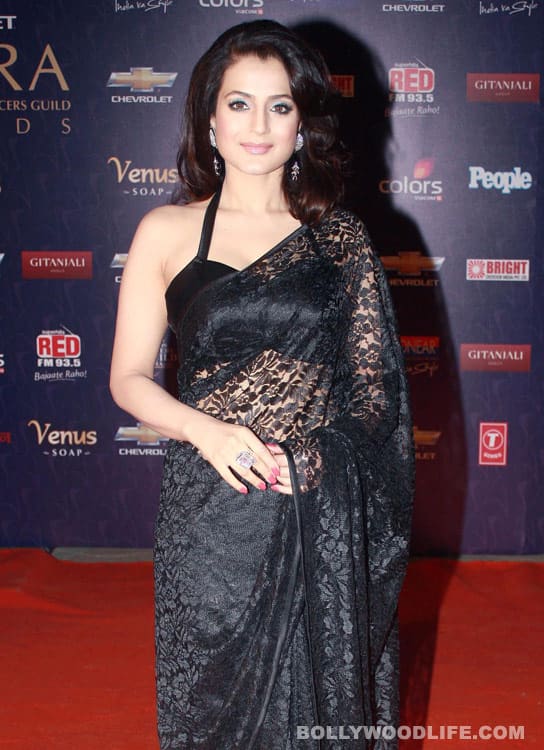 Basking in the glory of her decade-old hits such as Kaho Na… Pyar Hai and Gadar, Ameesha Patel stays in the limelight for her revealing outfits at various dos. Has the actor been reduced to a mere starlet?
Her silver screen debut with Hrithik Roshan in Kaho Na… Pyar Hai was nothing short of a dream. The film made Ameesha Patel a household name overnight. Exactly a year later she followed it up with another box office success, Gadar with Sunny Deol and many thought that the gorgeous actor was here to stay. But what followed after that was catastrophic. A never ending string of flops, bad film choices and repetitive hamming reduced Ameesha to a mere has-been. Nowadays, you see the 36-year-old at parties, promotional events and award ceremonies… everywhere but on the silver screen! Ameesha has become just a regular Page 3 presence who prances in outrageously itsy- bitsy clothes and doesn't make headlines even for the wrong reasons – until now.
Recently, the sexy siren turned up in a particularly revealing outfit at Rohit Dhawan's sangeet ceremony. Sanjay Dutt, who is good friends with her and is known to be protective of the ladies, asked her to cover up. Eyewitnesses have claimed in various reports that when Ameesha did not pay heed to his advice Sanju baba took her dupatta and covered her bosom. An outraged Ameesha yelled at him for misbehaving with her, while Sanjay's friends rushed to his defense, claiming that he only acted out of concern. Hardly had the controversy died down, Ameesha fanned it again with her clarification that her Chatur Singh Two Star co-star never actually misbehaved with her. "I'm lucky to have someone like Sanjay who is so protective and caring. He has never misbehaved with me. He's the sort of guy who doesn't want me to do films. He feels I'm too sophisticated to work in the industry, like he doesn't want his daughter to work in the industry," said Ameesha in an interview. Clearly, she's trying hard to restore her image and improve public relations so that the controversy doesn't hamper her friendship with Sanjay and Maanayata, and in turn with the industrywallas. However, hearing Ameesha say such things, we simply don't know how to react. We wish Ameesha will find a suitable guy for herself and settle into a more meaningful life rather than make headlines for unnecessary brawls. Sadly, at the moment, the gal seems nowhere close to doing that. Sigh.