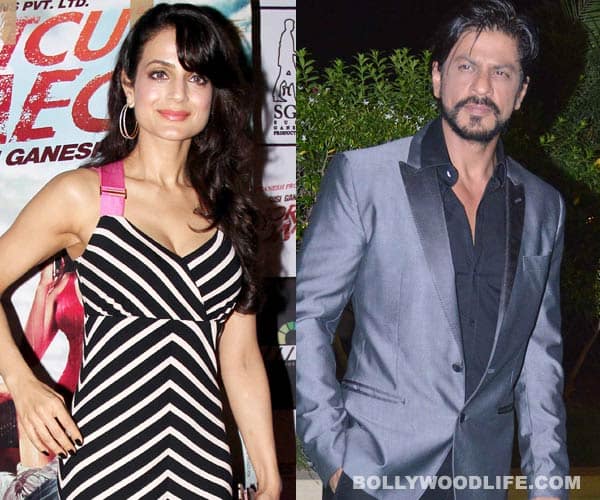 The petite babe is seen travelling the world and shaking a leg at high-profile weddings these days. We wonder if the Kaho Naa Pyaar Hai beauty is busy gathering the much-needed funds for her forthcoming production Desi Magic!
Ameesha Patel continues to catch our ever-prying eyes with her antics! We love the petite star for the spicy fodder she continues to provide us with her glamorous lifestyle to keep our naughty site look shocking and entertaining in equal proportions. It's been a while though since the babe has been featured on BL for the reasons best known to our loyal readers. So it was only natural for us to celebrate Ameesha's recent endeavours that made us wonder if the Patel beauty is giving none other than the king of Bollywood Shahrukh Khan a run for his money.
The Race 2 actor is seen grooving her sexy bod to the tune of some really hot numbers at high-profile weddings these days. In fact, our jasoos tells us that Miss A has been spending months travelling at various destinations to show off her sexy dance moves at weddings. We all know how SRK made a big noise by making clear that he has no qualms in shaking his super-starry leg at various parties and weeding celebrations in the exchange of handsome moolah.
And now Ameesha is following in King Khan's footsteps. We also hear that in spite of ill-health and even after been strictly advised against performing, Ameesha went ahead and shook her booty to rapturous applause. Even SRK has been spotted being his effervescent self at many parties as well as at promotional sprees with his fractured hand in the past. The superstar didn't mind taking jabs that enable him to do his job.
Clearly, Ameesha is doing a Shahrukh Khan to stick to her commitments. While we appreciate the babe's dedication, we are not sure what purpose will dancing at weddings serve the hottie. While Shahrukh Khan has always been in demand and has had endorsements and film offers lined up for him. He was shooting simultaneously for two to three movies even when he was seen doing wedding jigs with politicians and business honchos. Ameesha, on the other hand, has only one movie. Her next Desi Magic, produced by herself, will see the gal in a double role. It goes without saying that she doesn't have big endorsement deals to brag about neither do producers queue up outside her house to sign her up for their projects.
Looks like Ameesha needs to continue with what she is doing at the moment-raking in the much-needed moolah by dancing at wedding celebrations- perhaps to pay her staff on time and to create her own desi magic!
PS: If brother Ashmit Patel could go back to the notorious Bigg Boss house with Veena Malik and indulge in the intensely fake coochie-cooing with the Pakistani bombshell, that will come in handy to grab eyeballs ( and the money) to propel sister Ameesha's ambitious movie, no?