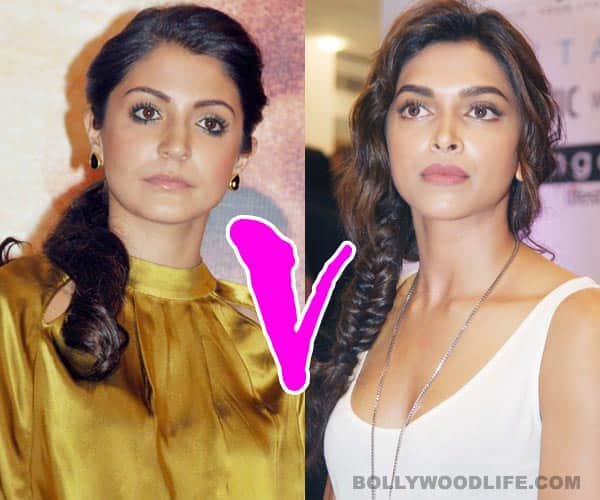 The Band Baaja Baaraat actor seems to be quite vocal and catty about her rivalry with fellow actor Deepika Padukone
When celebrities are asked about their onscreen rivalries in public, they either keep mum or at times, fly off the handle. And Anushka has been one such catty celeb who has chosen to shoot her mouth off rather than maintain a dignified silence on her rivalry with Deepika Padukone.
So when Deepika went on to say that she is not competing with any fellow actor and her competition was only with herself, laying her rivalry with Anushka at rest, the latter went on to make fiery statements like, "Stop throwing garbage at me since I don't throw garbage at you" she said about Deepika, She also tried to prove how she was a better person than Deepika when she said, "A friend of Deepika had called up to say that she is doing Yeh Jawaani Hai Deewani and not Anushka. My friends don't call, do they? I am Kashyap's and Hirani's choice. She is Ayan's and whosoever's. I never pull anybody down. That makes me nice, right?"
Meanwhile there were also reports that Anushka had reduced her fees for brand endorsements so she could bag more offers and undercut her rival Deepika. The angry young woman shot down that bit of news by showing how she was more special than her rival, "Today I command a premium. I have earned it. And I don't need to slash my prices. The best brands and filmmakers work with me happily and pay what I demand. But these are things that you don't flaunt," said Anushka clearly 'flaunting' her status as one of the more 'special' actors around!
So, what's up with Anushka? Is she really that insecure to be using these public platforms to get back at Deepika and ensure some publicity? Or is her anger genuine? And if so, why? Could it be because of the current closeness between Anushka's ex-beau Ranveer Singh and Deepika on the sets of Sanjay Leela Bhansali's Ram Leela? We don't know what it is, but something definitely seems to be irking Anushka, so much so that she shoots off her mouth at every given chance. Time to cool off, babes!