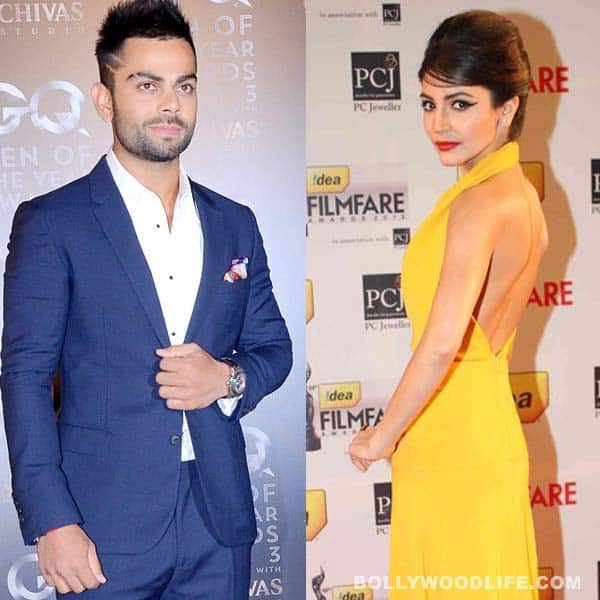 With Kohli replacing Dhoni as the skipper, we wonder if the Bombay Velvet actor is as nervous as her alleged beau for tomorrow's match
Though Anushka Sharma and Virat Kohli continue to maintain that they are only 'close friends,' one can't deny their blooming relationship. Not so long time ago, the alleged lovebirds were spotted walking hand-in-hand in New Zealand. While cricketer Virat Kohli was in Auckland for a Test series, the Jab Tak Hain Jaan actor flew down there especially to spend time with him. So much for a close friend, eh? Anyways, that's not all. Recently, Anushka had flown in to Mumbai for a weekend from Sri Lanka, where she was shooting for Bombay Velvet. Though the reports said that she flew in to Mumbai for her six month-old Labrador pup, coincidentally (or luckily), Virat was in Mumbai at the same time. What more, he was leaving for Dhaka for the Asia Cup tournament that weekend. So couldn't it be possible that his lady luck came to Mumbai for him?
Well, now with Virat Kohli stepping into the shoes of MS Dhoni and heading the men in blue at the Asia Cup 2014, we're sure Kohli is nervous. So we wonder if his close-friend from B-town is equally nervous about his performance at the Asia Cup tournament. Virat is currently the captain of the Indian team, which will be playing against Pakistan tomorrow. And you, like us and every other Indian will be anxious about the India vs Pakistan match. Will Anushka Sharma too be as nervous like every other Indian or will she be more stressed considering that Kohli is the captain. Will we get to see the Band Baaja Baaraat babe cheering for her good friend Virat in the stands of the India vs Pakistan match tomorrow? Well, let's wait and watch if Virat's lady love err… luck will run to his support yet again.
Catch the Live Score of India vs Pakistan Asia Cup 2014 Match here
For updated points table and team standing for Asia Cup 2014 tournament click here