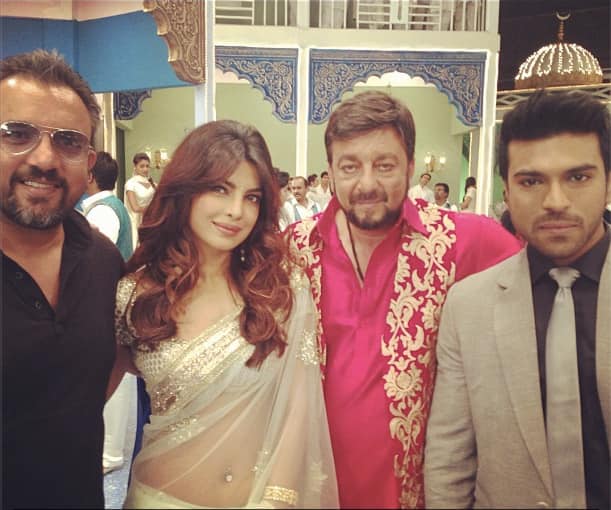 The director seeks divine intervention to ward off the evil eye after a string of unfortunate incidents have put the film in limbo
The fate of a film hangs in balance until the day it hits the screens. Before that, just about anything can go wrong, and when it does, the hapless director better be prepared. It seems Apoorva Lakhia and his ambitious remake of Zanjeer seem to be suffering a similar fate.
At the very start it was the writers of the original film Salim Khan and Javed Akhtar who objected to the remake as they believed it was important that they be consulted by the producers since they had a moral right to the characters and the film's story. When that issue got resolved, the movie got delayed due to its lead actors suffering back-to-back injuries. At first, it was Ram Charan Teja who was injured while shooting for Nayak and took time to recover and join the cast of Zanjeer. Next was Sonu Sood, who suffered a horrific accident in a Celebrity Cricket League match in Dubai, which put him out of action for almost a month. And as the injury prone cast made its way back to the sets, the film which was already lagging behind in its shooting schedule, suffered two more blows. While Prakash Mehra's sons picked up a fight over the film's rights and had the movie trailers barred from being released, one of the main stars of the movie, Sanjay Dutt was sentenced by the Supreme Court to five years imprisonment for his role in the 1993 Mumbai bomb blasts case.
With these incidents clearly pointing towards a jinxed project, the makers are looking at some much needed help from divine sources. Director Apoorva Lakhia was advised by the lead actor Ram Charan Teja to perform a puja so as to ensure that the film sails through smoothly until it hits the screens. "The puja will be performed by the cast and crew of the film. Priyanka Chopra and Ram will be present. The team is trying their best to get Sonu to attend the puja as well," said a source close to the film.
The puja will be held in Hyderabad or Mumbai, just before the makers launch full-fledged promotional activities. Well, we wish them luck, and hope that the film makes it to theatres on May 10 without any further hiccups!