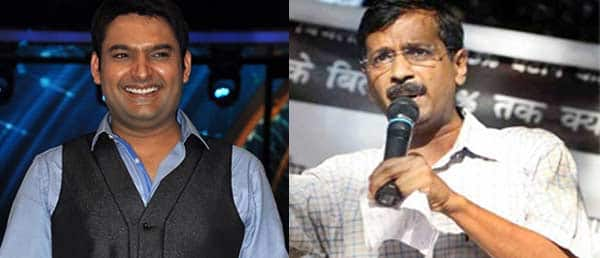 The Aam Aadmi Party leader was supposed to shoot for Comedy Nights with Kapil but he backed out at the last moment. Read on to know why…
Arvind Kejriwal was all set to come on the cult comedy show, Comedy Nights with Kapil, hosted by Kapil Sharma, but the Aam Aadmi Party leader cancelled the shoot right before the camera were about to roll. Was he scared of Kapil Sharma's quirky and witty quizzing? We wonder…
Our little birdies inform us that the Election Commission (EC) bans leaders from promoting their parties and its ideologies on any public platform 48 hours before polls and that is why Arvind backed out from the show. If we recall Delhi is going to poll today and seeing Kejriwal on the comedy show would have definitely be a violation of the election rules. Talking to a leading daily, a source from the production house confirms the development saying, "It was mutually cancelled as we didn't want to violate any rules. The idea of having somebody like Kejriwal on the show was not to talk about his party or anything serious. We were looking at a fun episode with questions in a lighter vein about his dharna and hunger strike. We will now go back to our original shoot schedule."
Now if that was the real reason, then we are more than happy on mutual decision of both the parties. It feels great to know that such prominent celebrities are so concerned about the rules and regulations formulated by the EC. Also, seeing Kejriwal back out from the show confirms our belief on his strong moral values. So go ahead BollywoodLifers, and let us know your thoughts on the same. Also, don't forget to vote for your favourite candidate!
Also Read:
Is Arvind Kejriwal promoting Aamir Khan's cousin Haider?
Has Jackky Bhagnani inspired Arvind Kejriwal?