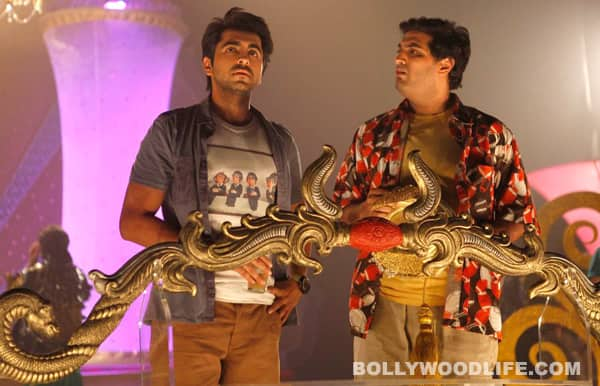 In Rohan Sippy's forthcoming comedy flick, Kunaal feels betrayed by his buddy Ayushmann, who instead of helping him patao his girlfriend, shamelessly flirts with her
The theatrical trailer of Rohan Sippy's hatke comedy Nautanki Saala has been well received by the industry and film buffs alike, and going by the movie's interesting wacky and witty one-liners (read Ayushmann's shudh Hindi dialogues), the laugh riot looks like a clear winner at the box office. So without wasting time, we present to you the funny translation of the shudh Hindi dialogues into pure English word-for-word. Savour it guys!
Main usse uska pyaar cheen lunga
I from him his love snatch take it
Devo ke dev Mahadev ke is dhanush ko uthane ka prayaas karne ke liye padhaar rahe hain Sri Ram
Lord's lord Mahadev's this bow to uplift try doing for coming Sri Ram
Mandar tum ek ghoda ho, ghoda, lambi race ka ghoda
Mandar you one horse is, horse, long race's horse
Jiske nass nass mein theatre hota hai sirf wohi is abhinay ka luft utha sakta hai
Who's nerve nerve in theatre is only he this acting's benefit lift possible
Luft gaya tel lene, director ka heart producer ke heart pe attack hai
Benefit gone oil to get, director's heart producer's heart on attack is
Wahan apke wafa ke layak apka layak khada hai
There yours honest worth yours worth standing is
Kitne din lagenge Chulbul Pandey banne mein?
How many days will take Chulbul Pandey to become