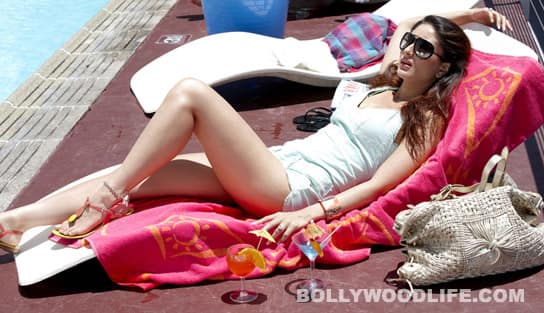 Kareena Kapoor has become extremely conscious of her image. After deciding to go off onscreen kisses, the actor has now refused to wear a white sari in the water…
The reigning queen of Bollywood, Kareena Kapoor, has been giving her directors a pretty hard time of late. After asking Madhur Bhandarkar to cut out the lovemaking scenes with co-stars Arjun Rampal and Arunoday Singh in Heroine because she was uncomfortable doing them, she is now skeptical about exposing in Milan Luthria's Once Upon a Time in Mumbaai 2. Bebo plays the character of Mandakini, the real life love-interest of Dawood Ibrahim, played by Akshay Kumar. Director Luthria wanted to recreate the iconic scene from Raj Kapoor's Ram Teri Ganga Maili where Mandakini was shown bathing under a waterfall in a white sari but Kareena is apprehensive about the level of exposure, as she would have to do the scene without a blouse on…without anything under the sari pallu as it drapes over her torso, in fact.
But there is more to the "new" Ms Kapoor. She has already sworn off kissing scenes with co-actors, as she believes that doing intimate scenes could impact her relationship with beau Saif Ali Khan. Well, this is definitely not the extremely ambitious and bindaas Bebo we are used to! Not very long ago, the same girl didn't blink twice before doing smooching sequences with her co-stars, from Hrithik Roshan and Akshay Kumar to Shahid Kapoor. She also sported a bikini in Tashan and not very much more clothing in Kambakkht Ishq. Clearly, Kareena's priorities have changed since the time she has been involved romantically with Saif. She has gone on record to say that she is planning to tie the knot next year, and we guess she is preparing to get into the role of a Pataudi begum by steering clear of controversy.
But this decision to stay completely clean may ward off quite a few directors and it could cost her some plum roles in the future. Considering that now she is in the 'slightly more experienced actor' bracket and now over 30 years old, she doesn't have too many choices in terms of co-stars. Apart from boyfriend Saif, the Khans and Akshay Kumar are her only real options, as most of the other male actors (Ranveer Singh and Imran Khan) are considered too young for her and Ranbir Kapoor is her first cousin. Also, there is a group of younger female actors willing to do pretty much anything to get their hands on prestige roles, some of them capable of taking over Kareena's spot in the star-studded spotlight, too!
Does Bebo really need to tread this cautiously? We wonder. If you remember, her soon-to-be mother-in-law Sharmila Tagore continued to remain bold even after she married the Nawab of Pataudi. In fact, she was willing to wear a bikini even after she became a begum, but it was the filmmakers who didn't think it was viable. We don't think Saif could be the reason either, as he is known to be super-cool when it comes to professional commitments. Guess it's the case then that Kareena is going in for a major overhaul when it comes to her public image and her career isn't her first priority any longer. And maybe she doesn't care about roles slipping away from under her pretty nose. She's soon going to be the Pataudi bahu, after all!