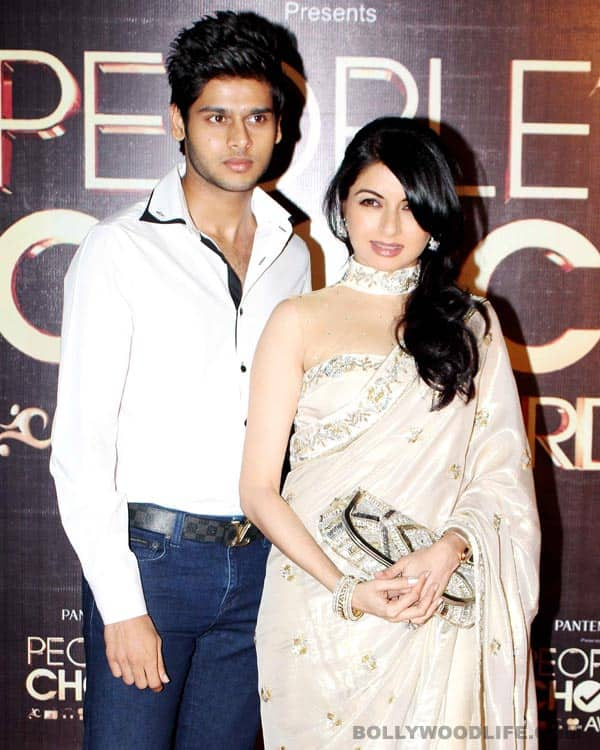 The Maine Pyar Kiya actor is being seen at various filmi dos and Bollywood parties. Is the lady forging a bond with industrywallas to promote her son?
She left Bollywood to get married at 19. That move obviously shocked the glitzy B-townies, especially in the wake of her debut film Maine Pyar Kiya with Salman Khan becoming a massive hit. But now pretty Bhagyashree Dasani is back with many television offers in her kitty. And as she gears up for her TV stint, the petite actor is also preparing the ground to launch her 22-year-old son Abhimanyu, who is an aspiring actor.
Ask her if she plans to launch her son and the actor says she has nothing concrete in mind for the young lad. "I couldn't plan for myself, but how will I plan for him? We own a production house and have made movies, but it is too early to decide what he wants to do. If there is a subject that appeals to him, then maybe, yes. He is just 22," said the doting mother in an interview to a daily.
We have spotted Bhagyashree in a lot of events in the recent past. And she has been seen getting pally with well known actors and directors. Will the one-film-wonder mommy help her young son find a big launching pad in the near future? We don't know. All we can suggest is that if mommy dearest approaches her super-successful long-ago costar, Salman for help for her beta, things can definitely work out, one way or the other. Wink -wink!