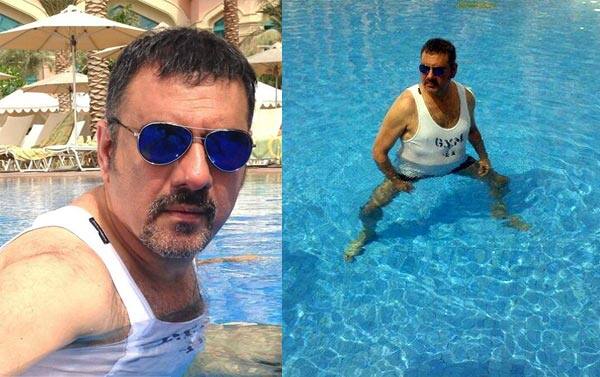 The versatile actor wears King Khan's T-shirt and takes a dip in the pool. Is Boman preparing himself to do the second installment of SRK's dard-e-disco, we wonder!
When Shahrukh Khan flaunted his chiseled washboard abs when he dropped his shirt for Dard-e-disco number in Farah Khan's Om Shanti Om, the Baashah Of Bollywood had ladies swooning all over him. And now, inspired from the art of seduction executed well by SRK, Boman Irani is trying to do his own version of the number. Here's the 53-year-old actor seen in a wet white shirt, flexing his 'flab-ulously' toned torso in the swimming pool. Bomzi even wears a cool shades to add charm.
This seductive art of the senior actor could not stop even Shahrukh from commenting on it. " I am not doing the second instalment of dard e disco in HNY…get Boman to do it…at least the 'dard' part will be true!by the way the t shirt was also mine," tweeted SRK. Farah Khan who is directing both SRK and Boman for her forthcoming movie Happy New Year also chipped in with her verbal dexterity. "ur( SRK) 6 packs can't compete with Bomzi's "Family Pack"!!," commented the choreographer-turned-filmmaker.
Now you tell us BollywoodLifers can Boman create some hysteria ( or histrionics) a la Shahrukh Khan with his dard-e-disco act, if Farah allows him to indulge?