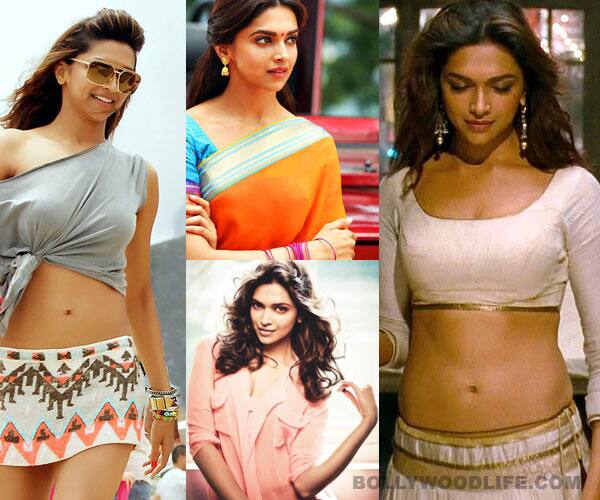 skip advertisement
The leggy lass has delivered five back-to-back hits. Her character in every film has been different, memorable, convincing. As which character did you like DP best? Vote to tell us….
Deepika Padukone is one of the leading female actors in B-town today. Recently we heard reports that she is now the highest paid star 'coz of her five back-to-back hits – Goliyon Ki Raasleela Ram-Leela, Chennai Express, Yeh Jawaani Hai Deewani, Race 2 and Cocktail. Deepika's acting skills have improved hugely since her rather awkward debut in Om Shanti Om, where she was supported by Shahrukh Khan.
And now the dimpled beauty is not only a good actor, but also a fashionista, letting neither the film critics down nor the fashion police.
In her five latest films, all superhits, DP has played varied roles. She sure has worked hard to attain the perfect look for each project, be it as sexy westernised Veronica in Cocktail or beautiful desi Leela in Ram-Leela – the girl is absolutely flawless! Take a look at each character Deepika has become in her recent films. Vote for your favouite…
Leela in Goliyon Ki Raasleela Ram-Leela: Deepika Padukone played a desi Leela in the film and stunned everyone with her look. Her appearance was what she had never done before. DP, who is usually seen in western clothes in her movies, wore traditional ghagra cholis in Ram-Leela. And boy, the outfits totally flattered her long torso and enviable curves! She looked bewitchingly beautiful as the feisty Leela…
Meenalochni Azhagusundaram aka Meenamma in Chennai Express: When Deepika made her Bollywood debut, her accent was criticised as being too South Indian. Now that she is a Mumbaikar and has cultivated a more neutral speech, she played a South Indian with a typical accent in Chennai Express. Though she spoke funnily in the film, she looked breathtaking in sarees, heavy jewellery, bindi on her forehead, thick brows and luscious hair… No wonder the romantic action-comedy made Rs. 200 crores at the box office, hai na?
Naina in Yeh Jawaani Hai Deewani: Deepika played the role of a shy and geeky medical student who transforms into strong and independent woman. She's a plain Jane in YJHD but still looks pretty, the kinda girl a guy would take home to mummy. Despite the nerdy glasses worn by DP, you can't take your eyes off her. In the film she is seen in pretty little frocks, simple salwar suits and even midriff-flaunting sexy lehenga cholis. No matter what role Deepika plays, she looks a bombshell – don't you agree?
Alina Malik in Race 2: When Deepika agreed to do Race 2, people said that she would become stereotyped playing sexy roles. Though she proved them wrong with her later projects, her look seemed similar to that she had in Cocktail. It could be 'coz she was seen romancing Saif again and their sizzling chemistry was simply hot! Checking out DP in Race 2, all we can say is mujhe to teri lat lag gayi…
Veronica in Cocktail: Deepika Padukone plays a wild child who is all about partying all the time and drinking like the proverbial fish. She's done total justice to the role of a rich spoilt brat in Cocktail. Playing a bindaas girl with a 'no strings attached' attitude and then transforming into a heartbroken lass, she knows how to make your feet tap to loud numbers and make your heart yearn for lost love…
All in all, Deepika Padukone has lost love, killed love and found love on the big screen. She's won hearts with her versatile performances. This gal is at the peak of her career and still has a long way to go…all up. She has played so many different roles onscreen, but which did you enjoy most? Vote…