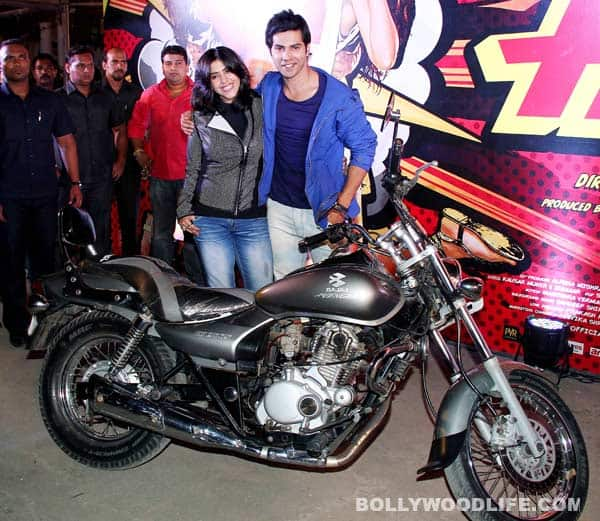 The Balaji head honcho lost her bike virginity to Varun and is all praises for the handsome lad these days. Is Ekta really impressed by the lead hero of her upcoming production venture Main Tera Hero? We hope she is but wethinks it's otherwise
Besides being a smart business woman, Ekta Kapoor is a marketing wizard too. But sadly her tricks have now become way too predictable. Main Tera Hero starring Varun Dhawan, Ileana D'Cruz and Nargis Fakhri is all set to hit the theatres. And considering Ms Kapoor has produced the film, we aren't surprised that she is going all out to promote the film. Recently, she went on a bike ride for the first time with Varun and while she could have summed up her experience in simple language, Ekta decided to give out an outrageous statement. She said in an interview, "I guess there's a first time for everything. Varun has been too charming for me to say no. I'm finally losing my bike virginity to him." Really? Is 'bike virginity' even a phrase? Guess Ekta can introduce a new vocab just for film marketing, hai na? But that's not the point. What's interesting is that Jeetendra's beti just can't stop raving about VD. Well, we have witnessed many praising sessions from Ekta so we aren't going to fall for this one.
All the love this TV czarina has for the Student of The Year dude is going to disappear if Main Tera Hero fails to get cash registers ringing. Trust us! Remember how Ekta Kapoor had only good things to say about Imran Khan and Akshay Kumar when her film Once Upon Ay Time In Mumbai Dobaara starring these two actors was about to release? But the film turned out to be a dud and things weren't all rosy after that. Something similar happened very recently with Sunny Leone too who featured in Ekta's horror venture Ragini MMS 2. Before the horrex released, Ekta was like a loving mentor to the former Canadian pornstar and even went on to say, "I would love to be Sunny at least for a day to know that every man is thinking of me sexually." But now we hear the filmmaker has vowed never to work with the sexy starlet even though Ragini MMS 2 fared pretty well at the ticket windows.
Guess Ekta Kapoor's love for her actors only stays till the film is running in the theatres, hai na? We hope Varun's film does well at the box office or else Ekta ka pyaar…pyaar nahi rahega!