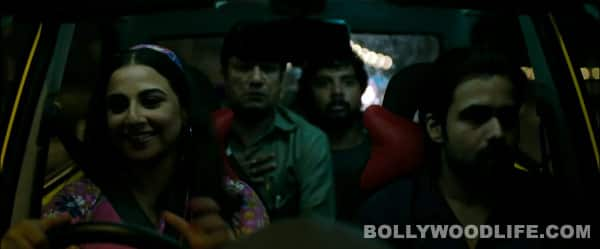 At least the antics that the serial kisser is up to in the title track of Rajkumar Gupta's suggest so…
Emraan Hashmi leaves no stone unturned to get into the skin of every character he portrays on screen. But sometimes the urge to perfect a task can also backfire, like how it happened in the case of Hollywood actor Heath Ledger, who attempted to bring to life the famous psycho grey character – Joker from the Batman series, The Dark Knight. Obviously, we hope Emraan doesn't take his characters too seriously, especially his Ghanchakkar role. This time, we translate the quirky song Oye Ghanchakkar babu of the Emraan Hashmi-Vidya Balan starrer. Hope it doesn't make you a Ghanchakkar like apna Emmi!
Sun oye ghanchakkar babu
Tere chakkar hai bekabu
Hua bheja talke sabu dana re
Karta apne mann ki
Bhook badi hai dhan ki
Sabne tujhko sanki mana re
Listen oye dumb dude
Yours round is uncontrollable
Happened mind fried sago re
Doing ours mind
Hunger big is of money
Everyone you crazy accepted re
Oh lutiya, Oh khatiya, Oh lungi
Continuous Thukkamm patti
Oh ghanchakkar sun le
Chaal ke sweater bun le
Shakkar badley gudh le jaana re
Oh got conned, oh bed, oh lungi
Lagatar hit patti
Oh dumb listen take
Walking style sweater form take
Sugar exchange take jaggery gone re
Find out the real reason when Rajkumar Gupta's hatke comic thriller releases on June 28.