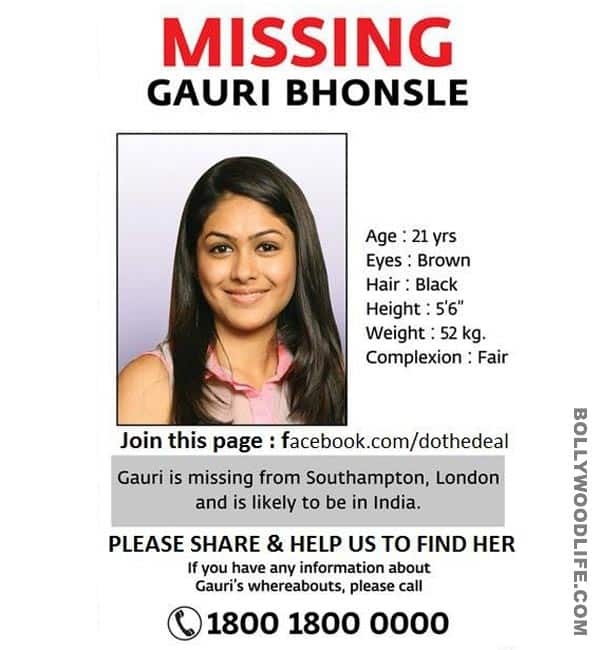 In an attempt to promote its upcoming show Kehti Hai Tumse Kuch Khamoshiyaan, Star Plus chose a campaign that left many confused
You might find a certain Gauri Bhonsle peeping out from the posters stuck on city walls, on the railway station notice board or at a bus depot. She has been reported missing. Such an issue is generally taken very seriously, except this time. Something was amiss.
People who looked at the posters that declared 'Gauri Bhonsle missing' took a moment off to find out who's actually asking for help. And if that weren't enough, Ms Gauri even made appearances on Facebook, on news channels, on her blog and even in the dailies. After reading about the messages posted everywhere that said, 'The NRI woman from London, Gauri Bhonsle (21) who reportedly went missing on October 15 on her way to Old Delhi Railway station to board a train to Malda, West Bengal, was rescued by the Saharanpur police from Talhari Biurg village on Tuesday. Police said she was rescued from a house, based on a tip-off', a few people came forward to help, genuinely. One young lady who had run away with her boyfriend even insisted that she was the Gauri Bhonsle everyone was looking for!
But do you know that no real Gauri Bhonsle exists? She is just a character in the script of TV show Kehti Hai Tumse Kuch Khamoshiyaan. Gauri is all set make an appearance on Star Plus at 7.30pm on November 12.
So where exactly is this heading? We agree that Star Plus wanted to promote their upcoming show a tad differently. But does that give them the liberty to play with an alert citizen's sentiments? People who feature in the missing report usually have families who are emotionally drained and desperate to find the whereabouts of their loved ones. And a spoof in such a serious territory doesn't really set a good example, does it? What do you think, readers?