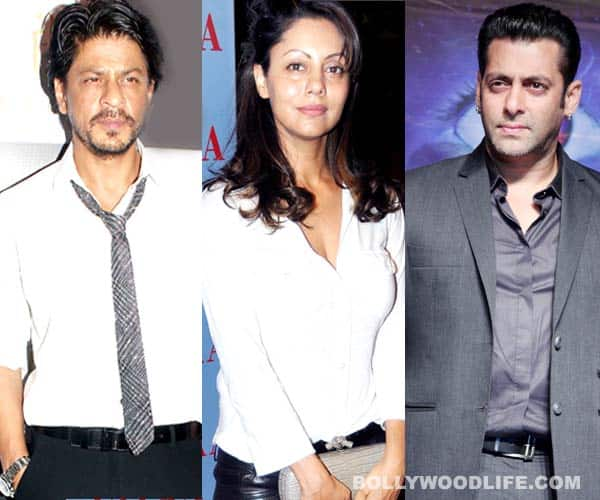 From taking digs at each other to sharing a warm hug, SRK and Salman have always shared an ever-changing relationship. But Shahrukh's wifey isn't affected by their kabhi-dushman-kabhi-dosti drama…
Tongues started wagging when Shahrukh Khan's wife Gauri Khan recently attended Salman Khan's brother Sohail Khan's Diwali bash. While Gauri looked every bit the diva in her gold sari and made a beautifully chic entry to the do, what caught everyone's attention was not her presence, but SRK's absence. That seems to reflect the dosti-dushmani scene between the biggie Khans, Shahrukh and Salman, hai na? Now we know the Karan Arjun co-stars shared a warm hug at Baba Siddiqui's iftaar party, but that's how people greet each other on festive occasions, no? So no SRK at Sohail's Diwali bash wasn't that surprising. And we certainly don't agree with reports that claim that AbRam's loving mommy is playing peacemaker between the warring Khans. After all, this isn't the first time that Gauri has attended a gathering at the other Khan household, remember? She is, after all, still friends with the Khan-daan's female side!
Be it Sohail's birthday bash or his wife Seema Khan's party, Mrs Shahrukh Khan has always turned up at the do without her superstar hubby. It seems that Gauri knows very well that no matter how hard anyone tries to bury the hatchet between the Kuch Kuch Hota Hai actors, it isn't going to work. If the two Khans really wanted to straighten out their relationship, it would have happened by now. Coz when it comes to professional rivalry, there is no reason for SRK and Sallu to be insecure – both star actors have their own sets of loyal fans and because of that their films rake in big-time moolah, no matter how trashy the story may be.
So why all the make-up-and-kiss natak, when there is no dostana between the two actors? Looks like there is a competition between the stars – whoever grows up and moves on loses the battle. Isn't that the reason why Shahrukh and his once-upon-a-time 'friend' are acting so immature? We certainly think so!
But we are glad that at least Gauri is acting her age and is unaffected by SRK's relationship with Salman or anybody else in the industry. She makes friends and keeps her bonds strong, no matter what her husband may do…at least in public. All we can say is, women power zindabad!