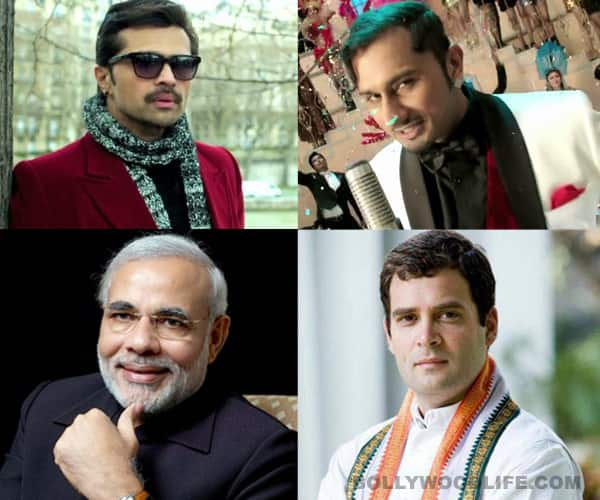 Is Rajinikanth's Kochadaiiyaan the reason? Or is it the IPL 7? Read on to find out…
Himesh Reshammiya and Yo Yo Honey Singh's upcoming retro murder mystery musical flick has been promoting itself very well. A few week before the release date, The Xpose was preponed by a week. If we recall there is no other movie releasing on the said Friday. We wonder why…
After scratching our heads for some time we figured out that the National Election results are to be out on the same day and thus all the producer directors had stayed clear of that Friday. But Himesh and Honey decided to take that risk and release their film on the very same day. Now there is a good thing about it as there are no other films releasing that weekend. But on the other hand, the whole nation will be engrossed in getting to know the result of the Lok Sabha Elections, especially Narendra Modi, Rahul Gandhi and Arvind Kejriwal.
The news channels are not just expecting the maximum viewership on the said Friday, but also throughout the weekend. But Himesh and Honey are of the opinion that the results will be out on Friday and people will be free from all hassles and tensions on the weekend and thus go out for their movie. So were the makers not scared at all about the election results? We wonder…Talking to a leading daily Rakesh Upadhyay, creative producer of The Xpose, says, "We are aware that May 16 is counting day, but by afternoon, the results will be known and people will step out after that. Also, the election staff that has been tied up for the last several months will be looking forward to some relief after all these months. I am sure our film will provide them the much-needed entertainment quotient. We had initially announced May 23 as we were unaware of the detailed schedule of IPL's cricket matches at that time. Later, we realised that from May 23 to 25, there are qualifying matches for the semi-finals and there are two matches on a day, so we decided to pull forward the release." Also, now that Rajinikanth's Kochadaiiyaan has been postponed to May 23, it was good that The Xpose didn't clash with Rajini sir's magnum opus. The Xpose also stars Irrfan Khan and newcomers, Zoya Afroz and Sonali Raut.
Now only time will tell us that all awaited date will bring good luck for whom? Will it be NaMo or RaGa or AK? Or will the audience give more time to Himesh Reshammiya and Yo Yo Honey Singh? Only time will tell us that. So BollywoodLifers, who do you think will own the viewership this Friday, the 16th May?