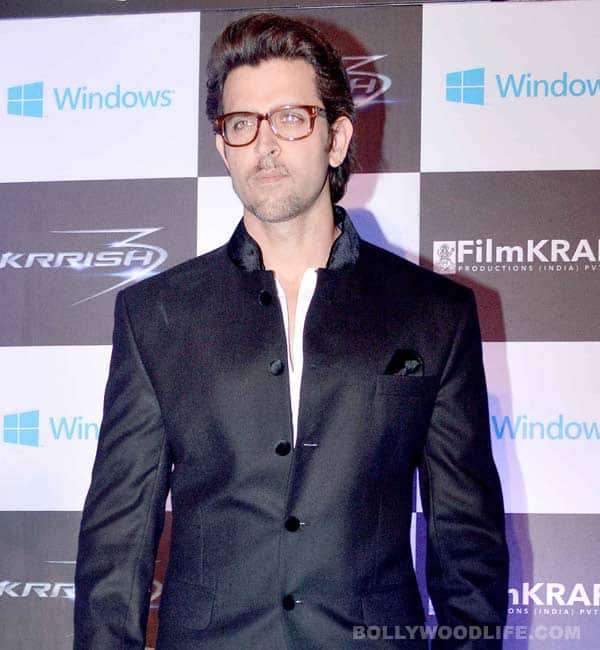 The Krrish 3 actor has asked the media and his fans for privacy after announcing his separation from wife Sussanne Roshan, so why is he talking about his personal life and feelings on social networking sites?
After months of speculation Hrithik Roshan recently confirmed the news of his separation from wife Sussanne Roshan. The actor issued an official statement that read: "Sussanne has decided to separate from me and end our 17-year relationship. This is a very trying time for the entire family and I request the media and the people to grant us our privacy at this time." What is really surprising is the first part of his statement. Is the onscreen superhero blaming his wife for the split by saying 'Sussanne-has-decided'? Coz we all know ki taali ek haath se nahi bajti, right? If Hrithik never intended to part ways from his wifey then why didn't he issue a joint statement with Sussanne? Why did Rakesh Roshan's ladla beta confirm the separation in a press releases when he is not even present in the country, but is reportedly on holiday in the United States? Maybe coz it's easier to make such announcements when you're far away from the media and you have nobody to question you, no?
After his sympathy-gaining statement, Jr Roshan expressed his eternal love for Sussanne on his Facebook page: "This is my greatest tribute to love. Sussanne is and always will be the love of my life for the rest of my life. If her smiles are brighter without me my love for her must accomplish that. Unconditional." In that case, you wouldn't have left the love of your life to answer all the questions, hai na, peeps? And it also makes us think that Roshan Jr has something to hide, which is why he is issuing clarifications pushing the blame on to his lady so quickly. Remember how there have been stories of his over-involvement with former co-star Kareena Kapoor (now Khan) and Kites leading lady Barbara Mori? To us, his statements merely smell of guilt being hastily covered up…
Sussanne, in her usual understated style, only said, "We are two individuals who respect and care for each other and have made our own individual choices. We are parents to two wonderful kids, Hrehaan and Hridhaan. And our responsibility remains to protect and take care of them. Nothing can change that. I would appreciate if we are given our privacy in such a time. Thank you for your warmth and concern for both of us and the family."
While we know that the couple is going through a difficult time and sympathise without knowing the true and whole story – though we must admit that our sympathies are mainly for the couple's two young sons, Hrehaan and Hridhaan – what we fail to understand is the Krrish 3 star and his missus are not going through it together, like several other B-town celebs. Not so long ago, loudmouth director Anurag Kashyap and his wife Kalki Keochlin decided to separate. And though the two weren't on good terms, they announced that they had issues to sort out amicably, issuing a joint statement. Even Aamir Khan and his first wife Reena Dutta parted on a good note some years ago. In Hrithik-Sussanne's case, 13 years of marriage and a 17-year-old relationship shouldn't have ended with hints that the decision is one-sided. If Hrithik really meant what he wrote on his Facebook page, he wouldn't have pointed an accusing finger at his perhaps soon-to-be-ex wife in an official statement, wethinks.
What is the real story behind this break-up of a long-term marriage? We will probably never know. But we wish all those involved would show dignity and keep their dirty linen hung away from public view!