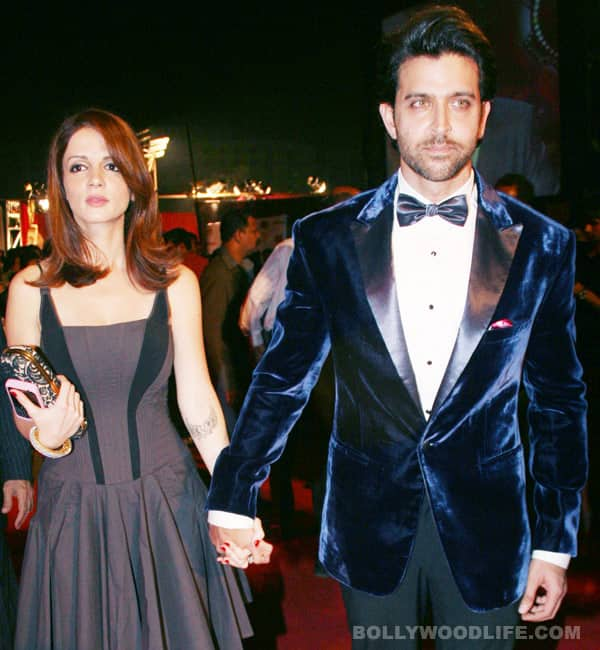 For some time now tongues have been waging about how Hrithik and his wife were heading for a divorce….but are they really?
Hrithik Roshan recently organised a grand birthday bash for daddy Rakesh Roshan and his wife Sussanne Khan's blink and miss appearance wasn't missed by the gathered media. And it was noticed by most people at the party that interior designer Sussanne had come dressed rather too casually for a glitzy family event. Just when we were ready to believe that the stories of a split between the gorgeous twosome were just rumours, Hrithik's Ganpati appearance was made again, again sans wifey. This got gossip mills a-buzzing once again. While there were reports that insisted that all was well between the younger Roshan husband and wife and how Sussanne was just spending quality time with her ailing father and travelling for work for her super-successful business, we heard stories of how Hrithik spent quality Sundays with his biwi and their two kiddies.
Hrithik tweeted emotionally on Thursday: "Just a thought – your life is less about you and more about the people around u who love you!" We figured that included his wife too. But on Friday a popular Bollywood gossip website claimed that the couple had separated. We refuse to accept this as truth unless we have an official statement from either of the two people concerned. We are even willing to accept that this is part of the publicity for Krrish 3. And Sussanne's sister Farah Khan Ali used Twitter to rubbish all the rumours; the popular celebrity jewellery designer wrote, "Celebrities will always be food for gossip. Don't believe everything you read. It's a pity the media lives off personal lives. Get a life!" She also said vehemently in response to the story of the separation, "NOT TRUE" in loud capital letters.
This isn't the first time that the star couple's marriage has come under the scanner. There were reports during the making and release of Kites that Hrithik was rather too close for Sussanne's comfort to his co-star Barbara Mori. At that time, tension between the Roshans and her moving out of the house was blamed on termites. However, they came out of the whole saga stronger and even got themselves inked with each other's names. An appearance on a TV talk show was all about lovey-dovey closeness and we presumed that it was be a real rather than a reel scenario. This time, too, we hope that there's no trouble in the Krrish star's paradise. After all, there are children involved. And it is, as friend Karan Johar always says, all about loving your family!