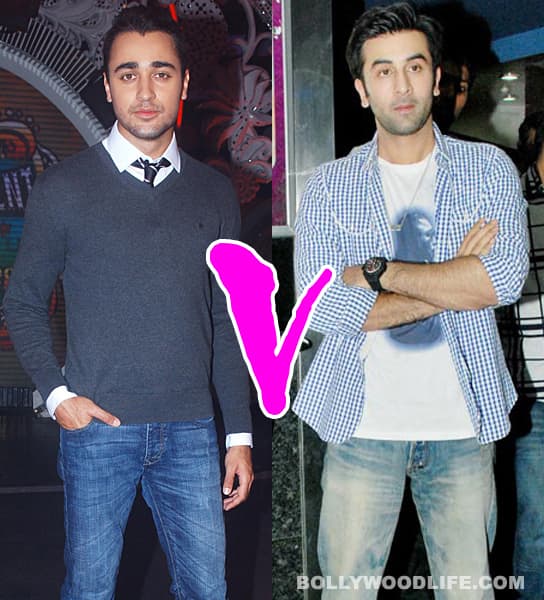 From the Ek Main Aur Ekk Tu actor's recent comments, it looks like it won't be long before the former friends turn full time foes
It seems like the rift between former friends Ranbir Kapoor and Imran Khan has begun to widen. We recently heard that the Jaane Tu.. actor, while promoting his latest flick Ek Main Aur Ekk Tu, commented that he has an edge over Ranbir as he can be paired opposite Kareena Kapoor, while Ranbir can't be. (For those who came in really late, Ranbir and Kareena are cousins.)
Of course, Imran is denying it now and saying that he just agreed with someone's observation about the pairing and he doesn't think it gives him any kind of edge. Imran called it a "fabrication" by an eager journo. Kareena too defended him saying Imran is just "too sweet" to make such statements.
We appreciate their efforts to nip the controversy in the bud, and we would have believed them too, if we hadn't heard something else. Apparently Imran has not only been keeping track of Ranbir's films, but also telling everyone that he too has done films that are of "the same sort". In a recent interview to a website, Imran compared his Mere Brother Ki Dulhan to Ranbir's Ajab Prem Ki Gazab Kahaniyaan, and his own I Hate Luv Storys to Anjaana Anjaani. He reportedly added that he hasn't seen Rockstar, but he is sure his work in Matru Ki Bijlee Ka Mandola will be on par with Ranbir's "mindboggling performance" in the Imtiaz Ali film. Wethink this smacks of something more than just professional rivalry. It's more like Imran is trying to prove to everyone that he is as good as the Kapoor lad.
You may remember that the two entered the industry within a few months of each other, but while Jaane Tu… Ya Jaane Na was a blockbuster, Saawariya ended up a dud. After that their careers took a completely different turn – Imran got the duds like Luck and Kidnap, while Ranbir was appreciated in Wake Up Sid and Ajab Prem…. Yet they proved to cynics that two newcomers can be good friends. They hosted an awards show together and every filmmaker was clamouring to cast both of them in his next film. Before that could happen, Raajneeti hit the theatres and it was alleged that Imran's then-girlfriend (now wife) Avantika made derogatory comments about the film while watching it at a special screening. We don't know if that is true, but since then there has been a noticeable rift between the two buddies. Imran doesn't attend Ranbir's parties and Ranbir didn't attend Imran's wedding. And from Imran's recent comments, it doesn't look as if the two are going to hug and make up any time soon, never mind the 'love scene' that ensued on a certain couch on television. We just hope they show more sense than Shahrukh Khan and Salman Khan and don't take their rivalry to those heights.
ALSO READ: Does Imran Khan look grown up with a beard? | Ranbir Kapoor leaves Barfee crew teary-eyed