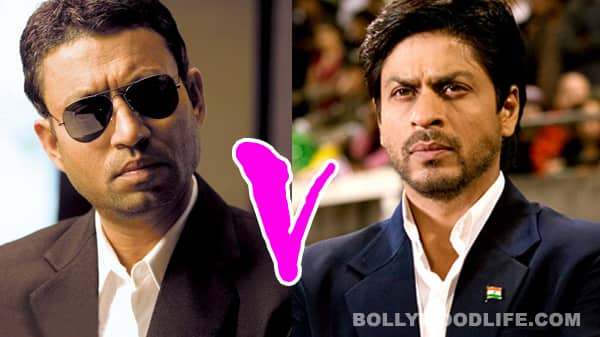 It's Khan vs Khan in Bollywood, as Irrfan sets his sights on Shahrukh Khan's Dhyan Chand
We love Irrfan. He's a Khan, even though he's dropped his surname. Perhaps that explains why he doesn't get racially profiled when he goes to the US to shoot the likes of The Amazing Spider-Man, unlike his Khan namesake Shahrukh. But now, like it happens periodically with him, our Irrfan is getting a bit too ambitious, a bit too big for his Paan Singh Tomar sized boots, shall we say. Irrfan has now set his sights on Indian hockey great Dhyan Chand. "It has been one of my dreams to do a role on Dhyan Chand. It seems I have grown too old to play this role. But if I get a chance to do I will definitely play the role of Dhyan Chand in a film. Dhyan Chand's story is amazing and he had made the country very proud. He made a very big name for himself in the field of hockey and today see the condition of hockey. I think we should definitely make a film on Dhyan Chand," said Irrfan. Arrey tera 'Dhyan' kidhar hai, Irrfan bhai? Don't you know that after his masterly performance in Chak De! India, Shahrukh is in talks to play Dhyan Chand?
We do agree that overall Irrfan is a much better actor than SRK can ever hope to be but let's get realistic here. Irrfan also said, "Filmmakers have realised that audience is also hungry for original subjects, to see our own stories. They also want to see original cinema, films that have an identity. They want to see those films whose roots are based here. This section of audience has awakened the film industry and it is not just about sport films, people want to see good and original cinema."
The key phrase is 'section of audience'. Forgetting the past and looking only at the Khans' last releases, it's a harsh and unfair, yet true scenario. Don 2 collected the small matter of Rs 210 crore. For all the hype around the success of PST, and a success it indeed is within that 'section of audience', the lifetime collections are around Rs 16 crore. So, Irrfan, it's going to be a while before and if at all you are accepted as a mass-market hero like SRK. So, continue the good work and leave the heavy lifting to the other three Khans. There was a fourth (Saif), but he got Vinoded.
Meanwhile, we hear that Nagarjuna is investing Rs 100 crore to improve his Annapurna Studios; trying to make it world class and attract Hollywood shoots. He says that you can come in with a concept and leave with cans of completed film. Several things wrong with that. First, that line was originally uttered by Ramoji Rao, in the context of Ramoji Film City and is therefore not original, and second, a majority of cinemas and therefore film output is digital these days, thus rendering the venerable film can and Nagarjuna's thought processes obsolete. Also, as Ramoji Rao discovered, you really can't do anything about Hyderabad weather, explaining why film crews aren't exactly making a beeline to the city.