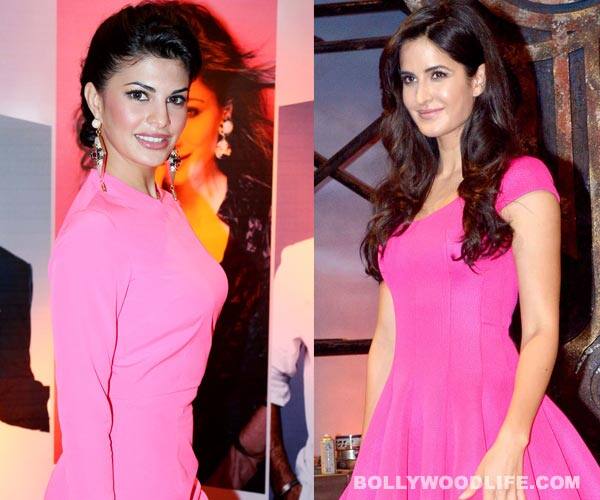 It looks like the Sri Lankan beauty is walking down the same path as Kat. Well, we aren't talking about professionally but personally. Confused? Read on to know…
While Katrina Kaif has romanced Salman Khan onscreen quite a few times, Jacqueline Fernandez is playing the female lead in Salman Khan's upcoming action flick Kick. But apart from Khan connection, there is something common between Ms Kaif and the Housefull 2 actor. We all know the Dhoom:3 starlet doesn't like talking about her relationships. Even though the whole world is aware about her not-so-secret love affair with Ranbir Kapoor, KK just doesn't believe in giving up. We mean she loves to be diplomatic when it comes to the matters of heart. Remember the famous line  – I am single until I get married. Yes, Katrina has been using this phrase forever. In fact, in an interview she even said, " This sentence is mine and now everybody uses it. I should have a copyright over it." And now Jackie has decided to follow the same funda. The Housefull 2 babe isn't going to talk about her relationship come what may.
While talking to a leading tabloid, Ms Fernandez said, "I don't think I'd admit to being in a relationship again unless there is complete commitment. I'd only talk about it if I see it leading to marriage." We dunno if this strategy is going to work coz in Bollywood there is hardly anything that can be hidden. But at least we are glad she hasn't used Kat's famous sentence.
Wethinks Jacqueline has decided to keep her personal life under the wraps coz not too long ago her ex-boyfriend Sajid Khan blamed her for his film Himmatwala's debacle. Well, Sajid can blame anyone he wants but we all know who is guilty here, right? So Jackie doesn't need to worry about that. As for the whole 'no personal talk' resolution, let's see how much it works. Hasn't helped the creator of I-am-single-until-I-get-married so we wonder if it will work for Jacqueline.