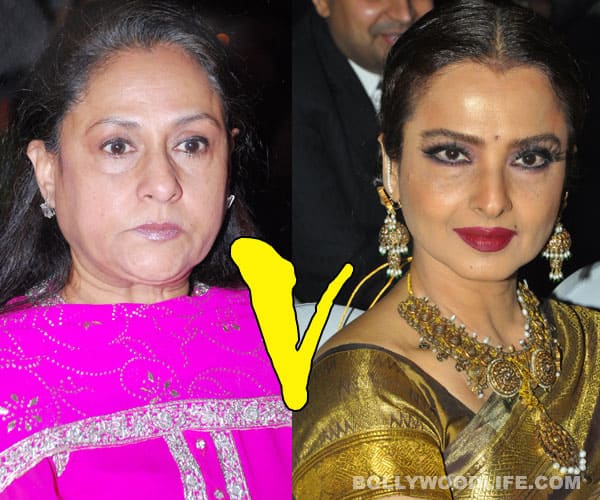 Mrs Bachchan requested for a change in her seat in the Rajya Sabha after she discovered that Rekha has been allotted a place very close to her…but that's not what she says!
Just two days ago Amitabh Bachchan expressed his willingness to work with his alleged ex-flame Rekha. That instantly made us believe that Jaya Bachchan, Big B's dear wife, must have given her nod to her superstar husband, allowing him to work with the Silsila siren again. If you remember, while stories of a wild love affair between Rekha and Amitabh did the rounds and still make waves every now and then, nothing was substantiated, with no definite proof of the bond between the diva and her 'Him'. Being the peaceable types, we figured that bygones were indeed long gone by when we saw the two women – wife and supposed lover – make friendly faces and noises at each other at various dos. But going by recent developments, it seems that Mrs Bachchan wants to maintain a respectful distance from Rekha, even today.
The news has been full of reports of Rekha – along with Sachin Tendulkar – being invited to join the Rajya Sabha. She has, we are told, agreed to do so and is looking forward to being part of the Upper House and its goings-on. She will be placed in seat number 98. This is where the fun begins, we decided, since Jaya will be just down the row, in seat number 91. And the fun does indeed begin. We hear that Jaya Bachchan has asked for a change in her seat, citing the demise of a former Samajwadi Party colleague, Brijbhushan Tiwary, who occupied seat number 92, as the reason. Of course, the gossip-gang has a different take; it is being said that the real reason why Jaya has asked for the change is that she doesn't wish to be seen with Rekha in the same frame as the moving camera in the house could capture the two women together.
The Minister of State for Parliamentary Affairs, Rajeev Shukla is likely to find a more appropriate seat for Jaya very soon. And we think that it could be the best idea that has come out of the Rajya Sabha for a while now. After all, who wants to add fuel to an already volatile ember and bring the house down with an explosion!
ALSO READ: Rekha nominated to the Rajya Sabha