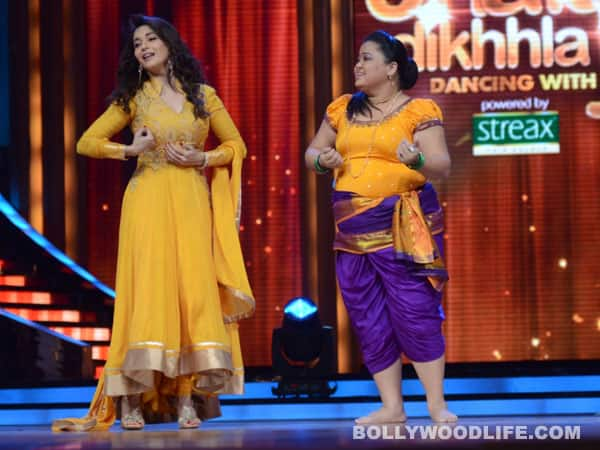 It seems very much as if the contenstants on the dance reality show on Colors are facing more trouble than in previous seasons. Has someone put the evil eye on the show?
First it was Salman Yusuf Khan, Isha Sharvani's choreographer. Then we heard about Bharti Singh's bad back, made worse by her attempts to keep up with her fellow contestants on Jhalak Dikhhla Jaa 5. Then we saw Karan Wahi in an arm brace, Gurmeet Choudhary with his arm bandaged and his choreographer Shampa with her ankle strapped and various other tales of pain evident on the faces and bodies of the celebrities who were learning not just how to dance, but also how to cope with the fallout of new movements. And finally, as a kind of climax, there was Isha's injury, which probably ranks as one of the worst suffered on the sets of the dance reality show. While rehearsing for a number with one of the firangi choreographers – Jaymes from Las Vegas and Dancing with the Stars – Isha fell awkwardly and broke a bone in her elbow. Since she is a dancer, this has been devastating for the young actor, and she has smiled valiantly, obviously hopped up on magic pills to cut the pain, and pleaded for survival on the show. Whether she will stay or not, we do not know. Rumour has it that she is bowing out…
But this only makes us wonder, what is happening at Jhalak House? Yeah, we know standards are shooting higher with every episode, and each contestant is not only expected to push his or her body harder and reach new heights of excellence, but somewhere, sometime, someone needs to make sure that this does not go beyond limits, no? There has been talk about black magic – Raaz 3, anyone? – and evil eye spells and more, but all that seems a bit much to digest. Whatever the case, there is only so much an untrained dancer can do. And someone must draw that line. Soon.