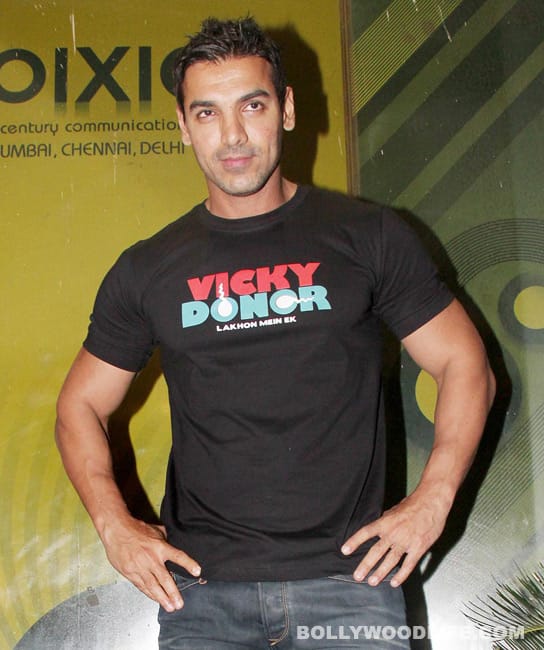 It sure seems that way from his shooting schedule
John Abraham is leaving no publicity gimmick undone to promote his first home production, Vicky Donor, including doing an item number. John is no dancer, but apparently, he and his distributors believe that his presence for even a short while will help increase ticket sales. John will be shooting his song tonight. Since he has to film Shootout at Wadala during the day, he had planned the item number shoot for the night.
However, John was seriously injured three days ago while doing an short sequence for Shootout. The camera angles were such that a body double could not be used and John too insisted that he will do all his action sequences himself. John was fighting co-star Chetan Hansraj in the sequence when he had to a somersault over Chetan's shoulder. While doing it, he pulled a hamstring. Despite the injury, he came to the sets the next day to complete the sequence with the help of pain relief sprays. Yet, the pain got so bad that doctors have finally advised him bed rest for six days. Director Sanjay Gupta confirmed to a leading daily that they have stopped the shoot for an entire week so John can get adequate rest. But John, we hear, has not postponed filming his item number. He is going to go against his doctors' advice and shoot it instead of causing any losses for his production house, even though Sanjay Gupta will incur losses by stopping his shoot. Dancing may not be as strenuous as doing an action sequence, but it is not a cakewalk either. And frankly, it's not as if his item song will make that much of a difference at the box office. What can we say? We just hope John doesn't aggravate his injury in the process. We would much rather see him flex his bulging biceps than show off his two left feet.
ALSO READ: Ayushman Khurana and Yami Gautam promote 'Vicky Donor'