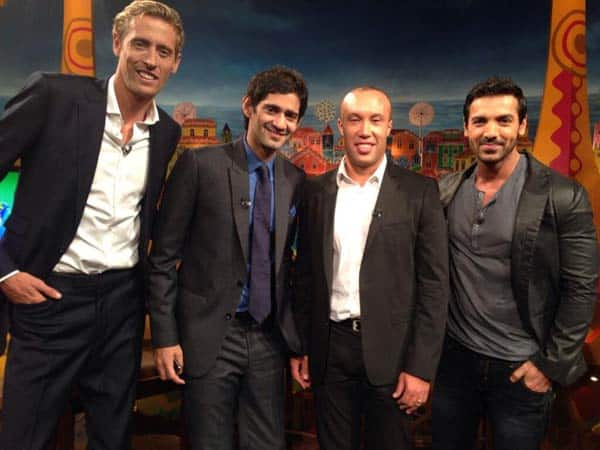 Sources close to Madras Cafe star speak in support for him in the wake of wide spread criticism for his appearance on a football show
Cafe Rio, the FIFA pre-game show, which is being aired on Sony Six has drawn a lot of flak from viewers over the people chosen as experts for the panel and their allegedly inadequate presenting skills. John Abraham recently drew his share of criticism for being on the show with Facebook and Twitter being awash with posts questioning the knowledge of the game that he has, and the scorn heaped upon John Abraham in particular has been nothing short of vitriolic.A source close to the Bollywood hunk stated," But the question that needs to be asked is does any Indian really have the right to question and point fingers at someone's football knowledge? How many Indians follow the I-league, the top domestic football competition in the country, anyways?".
"With the World Cup fever at its highest now, self-confessed football fans are showing their support for the team by proudly wearing jerseys of European clubs or teams that they support. However, this kind of craze or following is not seen during the regular I-league season and one will rarely spot jerseys of Mohun Bagan, East Bengal or Mohammedan Sporting.  So when we ourselves do not know enough about the sport in our country, do we have any right to criticize John, who has always supported sports and fitness?" questioned a friend of John Abraham.
"John should be considered as an ambassador and a promoter of football who has done a great job of sharing his views about the game. He was not there to promote his movies, after all unlike other movie stars attending sports show." added the source close to the actor.
Perhaps it is time for detractors of the show to look at the brighter side too. Football fans in India need to embrace the game and go beyond their prejudice for the people who are working hard to keep them updated.