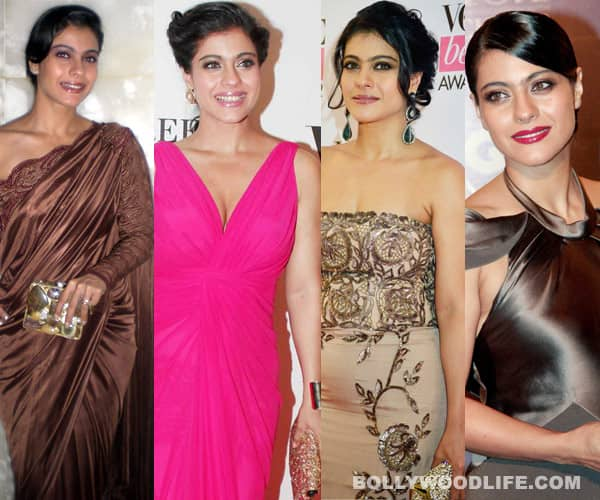 We spotted the My Name Is Khan superstar at a string of events this year and we must admit that the diva has updated her style quotient in sync with her effervescent persona
Kajol is quite a head turner! The 38-year-old is known for her impossible-to-mimic charm and effortlessly chic sartorial sense. Style experts maintain that what strikes you best about Kajol is the fact that in spite of being a mother of two, she has kept the giddy child in her absolutely alive. And that is reflected in the way she projects herself on screen and off it.
These days Mrs Devgn is seen wearing some jazzy hues with panache. More precisely, our observant eyes spotted her wearing off-shoulder outfits at various events, where Kajol made her powerful presence felt. Be it her intricately decorated long gown at the Vogue 2012 beauty awards or her shocking pink outfit at the recent red carpet event of a renowned diamond brand, Kajol kept our attention fixated on her even complexion and her toned torso throughout 2012.
The feisty lady that she is, Kajol, it seems, loves to flaunt her shoulders. She wore an over-the-top flashy creation for a popular men's magazine award and was also seen draped in a stylish saree-cum-bronze gown at Shatrughan Sinha's birthday bash with ample of neckline and soap cases on display.
What also impressed us about Kajol is the way she chose to play with her hair at all her appearances this year. She even experimented with her make-up to match her looks oh-so well! And hey, how could one not notice – if you are born with discernible taste, of course – those nicely paired clutches the lady flashes quite subtly wherever she goes!