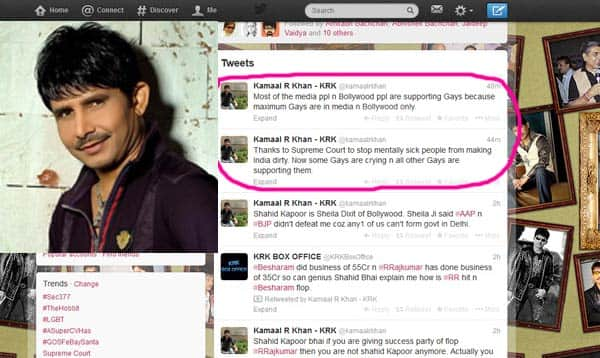 As the Supreme Court made gay sex a criminal act once again in India, the country's popular movie industry and the media expressed their anger and dismay in no uncertain way. A certain Kamaal R Khan seized the opportunity to spill his pearls of 'homophobic' wisdom absolutely unabashedly. Read his crass and ridiculously idiotic tweets and tell us how would you respond to KRK's insensitive remarks?
There's a new b*** in B-town! She is err..he is (you decide) Kamaal R Khan. The Deshdrohi actor, who can't even act or speak properly to save his life, is the most annoying species on Twitter you can ever come across. Khan whose linguistic ability is as obnoxious as his buffoonish appearance and his dressing sense is always ready to give his opinion on various social, moral or filmi issues at the drop of a hat. And going by his recent tweets one can get a clear idea of his 'beautiful mind' lurking behind the hideous looking face.
So when the Supreme Court set aside a historic 2009 Delhi High Court judgement that decriminalised gay sex on Wednesday, making homosexual act a punishable offence, KRK has his take ready on the issue. "Thanks to Supreme Court to stop mentally sick people from making India dirty. Now some gays are crying n all other Gays are supporting them," tweeted the loudmouth Kamaal.
Eminent Bollywood celebrities and media personalities including Anupam Kher, Rahul Bose, Chetan Bhagat, Vikram Seth, Karan Johar, Farhan Akhtar, Celina Jaitley and many others vented their disgust vehemently over the issue by taking to Twitter. Some even expressed shock and dismay over the Supreme Court's decision that many thought was highly regressive, brutal and insensitive. In the wake of this controversy how could our colorful dude ( read:uncle) keep his trap shut? He unleashed a barrage of (his usual ill-informed) opinions on twitter. "Most of the media ppl n Bollywood ppl are supporting Gays because maximum Gays are in media n Bollywood only," tweeted the hyperactive (self-proclaimed) star!
Now you tell us BollywoodLifers, how would you respond to the man who thinks that homosexuals are mentally sick and they make this country a dirty place?
PS: After taking a liberal dig at Salman Khan's sexuality (the superstar's virgin status) and making mockery of Shahid Kapoor's latest release recenly, along with his regular potshots at political leaders, KRK could not find anything he could yank on about.
Clearly, he decided to take on homosexuality with his 'homophobic' writing. What is even more interesting is that the man is known for flinching from his own 'heroic' words and he even takes some of his caustic comments back the moment people start giving him a dose of his own medicine. So we took a quick screen shot of his nasty remarks before he deleted his glorious tweets!