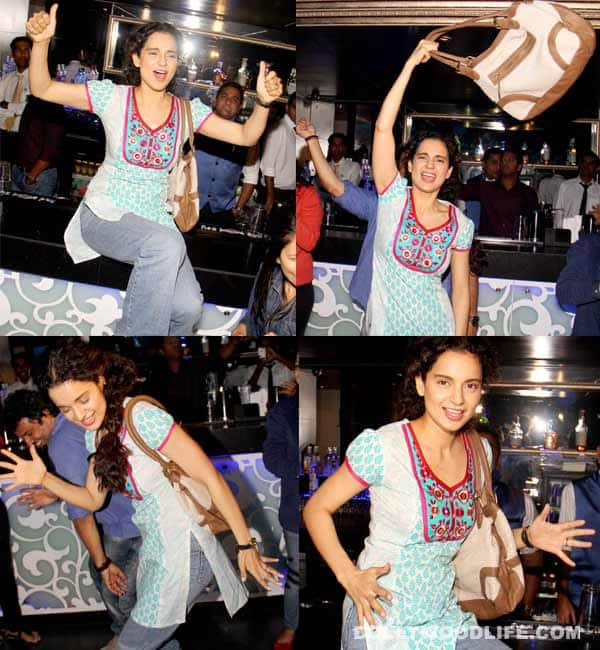 skip advertisement
Well, Kangs isn't wearing hideous outfits while making appearances, nor has she put on weight. But the two ladies have something in common. Find out what
Recently, when we spotted Kangana Ranaut, we were shocked for a moment. Of course, then it dawned upon us that it was only a promotional strategy for her upcoming film Queen. So you ask us what happened.
Well, the curly haired babe was seen in a de-glam avatar. Not only was her kurti and denims totally un-cool, so was her handbag, to which she was clinging onto all through the evening. At most of the recent events, Kangana had made stunning appearances, and we were all praises for her, which is why we were unpleasantly surprised to see her in this avatar. However, Kangna was wearing that outfit 'coz she's wearing the similar outfit in the film too. The actor was only trying to live her reel-life character in real life while promoting Queen. Thank God!
However, Kangana isn't the first actor to do so. In the past, Vidya Balan has used a similar promotional gimmick. During the promotions of her film Ghanchakkar, Vids was seen in the weirdest outfits, as her character in the film was loud and badly dressed. So, Kangs was only copying Vidya's promotional strategy for her film, Queen.
While Vidya's strategy didn't help her film much, we hope the same doesn't happen for Queen. We wish all the best to the curly-haired beauty for her upcoming film that releases this week.