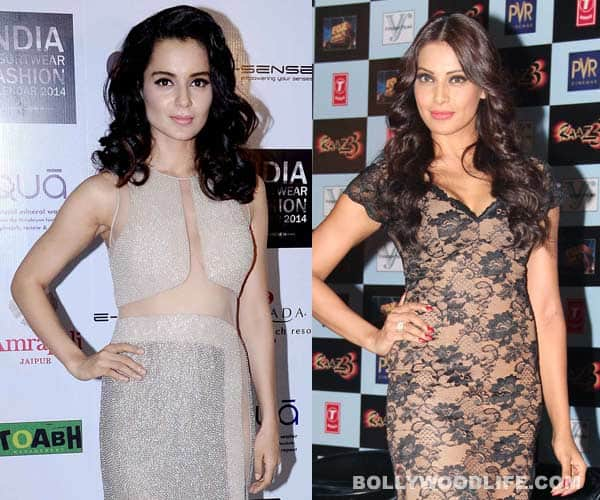 The Raaz 2 actor seems to be fixated with the genre and wants to do more movies involving the paranormal. Does that mean she is trying to topple the Raaz 3 actor and become the most feared beauty of B-Town?
Kangana Ranaut wants to do more horror films. If you try and remember, the Queen actor's first try at horror was the Emraan Hashmi starrer, Raaz-The Mystery Continues. That role won her many accolades from critics and the masses alike. In the past, the only actor who has done horror movies for the love of the genre, is Bipasha Basu. We have seen Bips doing movies like Raaz, Darna Zaroori Hai, Raaz 3, Aatma, etc. But as of today, Bipasha has as many movies as a beggar has nickles. So does that mean Kangana is trying to topple the Humshakals actor and become the ultimate horror seductress?
A little birdie tells us that Kangana would be doing her next horror film with director Bhushan Patel, who is a self-proclaimed horror specialist. He has already completed Raagini MMS2, which is his second film after the hit 1920: Evil Returns and it seems there's no stopping him. Although, there has been no official announcement from the director but murmurs are afloat, that he wrote his next horror script keeping Kangana in mind.
After knowing that Raaz 4 might have Kangana instead of Bipasha, we would not be shocked if she signs up for Bhushan's next horror flick too. As for us, we are definitely waiting for Kangana's scary avatar and we hope, that her horror run does not give us movies as pathetic as Aatma.