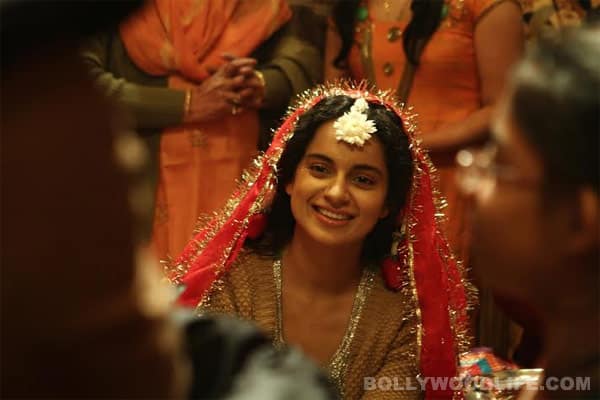 Looks like Kangana is the most hard working heroines of them all. How?
There are many heroines in Bollywood who are famous for their nakhras. It's like saying, a heroine without nakhras is like a Bollywood film without an item number. We don't want to be mean here, but there are various instances, that prove our point. Remember the whole tamashaa about Priyanka Chopra stopping the shoot of Mary Kom for a long time, just because of a small bug bite? But then there are some exceptions, and Kangana Ranaut seems to be one of them.
Kangana, who is looking forward to the release of her film Queen, has left no stone unturned to excel at her work. Recently, the unit of the film was amazed when the actor, without hesitation, shot in the coldest days of Delhi winters with just one sweater.
The incident took place as she danced to the tunes of London Thumakda, a peppy track from the film, that was released recently. While all the dancers wore layers of clothes under their shiny costumes to stay warm in the chilling cold, Kangana had absolutely no qualms in being dressed in a salwar kameez, with just a sweater above it. Not just this, the actor never failed to miss a single day of her morning workout regime. Even if the call time was 7am, Kangana would wake up at 5am in the cold to hit the gym before the shoot
A source from the unit said, "We have no idea where this determination and focus comes from. While we used to be shivering under layers of blankets and quilts, Kangana would have already hit the gym, preparing herself for the shoot.
Now this is something rare, isn't it?