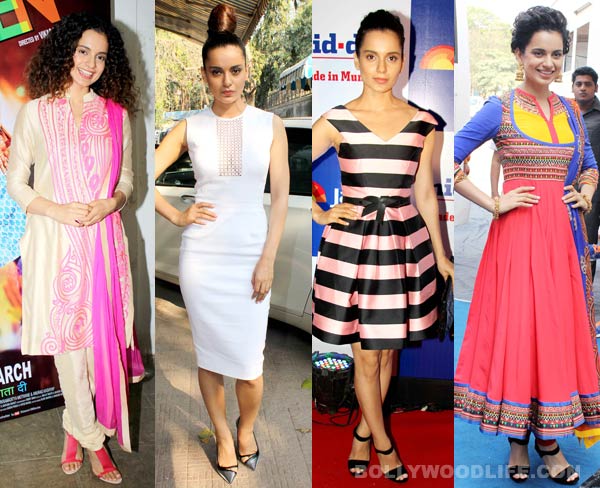 skip advertisement
The curly-haired babe has been making some stunning appearances recently and we must say that most of the times, she has impressed us!
Kangna Ranaut is busy promoting her upcoming film Queen. And it's not only her appearances during the film's promotions but also at recent events that this diva has won our hearts. Only a few days ago at a bash, Kangna was seen in a striped Topshop dress, which she had teamed with a pair of black sandals and was holding a black Dior clutch.
She was seen sans any accessories and despite that her hairdo looked classy and elegant. Though this look wasn't something new, it was noteworthy.
That's not all. On one occasion, this babe had two back-to-back events to attend. While some actors would have gone with the same attire, Kangs chose to change her dress. At one event, she opted for a white Victoria Beckham dress and at another, chartreuse Rajat Tangri. Though the latter was a backless number, she looked better in the white one. Somehow, the high knot on the top of her head and black and white pumps complemented the white dress more. Don't you agree?
On yet another occasion, the curly-haired hottie looked chic and smart in a pair of light-coloured denims and a checked shirt, which was buttoned up till the collar. Boy, this lovely lass doesn't need revealing dresses to grab eyeballs, hai na?
Anyways, Kangna's appearances weren't limited to western outfits. On several occasions she was seen in desi avatars and she looked simply gorgeous. On one occasion, she was seen in a Pankaj and Nidhi suit and had let down her natural curly tresses. While the base colour of her this outfit was dull, she was seen in a vibrant coloured Manish Malhotra suit on the sets of a TV show. She was flaunting pretty gold jhumkas with an updo and she looked lovely as she flashed her pearlies.
Desi or western, Kangna Ranaut looked alluring no matter what. We don't know if she will emerge as the queen of Bollywood with her film Queen, but she has certainly become the queen of our hearts when it comes to her fashion sense. The other divas better watch out 'coz with such appearances, it won't be long before Kangs emerges as the fashionista of B-town. Don't you agree, BollywoodLifers?