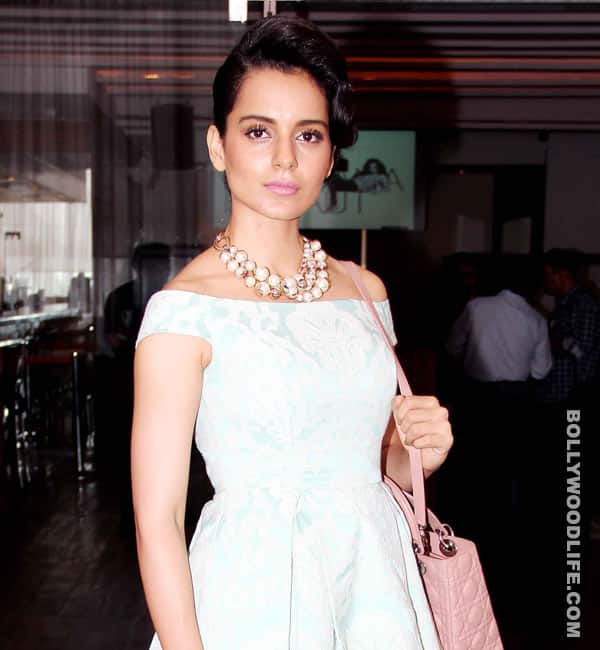 Would you like to know what the bold and bindaas Gangster heroine is up to?
Kangna Ranaut has a treat for all her fans – now they can find out much more about their favourite star! The actor who has shown enough mettle with her roles and has inspired several style divas in B-town will now be doling out style tips and sharing titbits from her own experience with her fans on her official website – www.officialkanganaranaut.com. Kangna was present to launch her site and made stylish picture in a cool blue short dress, big beads around her neck and nude heels. We also spotted a small fresh wound on Kangana's right leg – did she get this working hard on action scenes for her new film (????), or did this happen during patchwork for Krrish 3? We dunno, but Kangy looked confident and relaxed. "I'm really excited to be introducing the website -I've long wanted to connect with my fans on a one-on-one basis. However, my professional commitments didn't permit it earlier. With the website, however, I look forward to connecting with my fans from across the globe. The site is fun and quirky, and is signature Kangna Ranaut".
Kangna shares fashion tips, her best looks for magazine covers, trivia and even news. We wonder if this site will have all the gossip about the star too or whether it will be limited to stories that Kangna doesn't mind acknowledging. A look at the Fashion star's website left us disappointed on that one!
Our suggestion to the pretty lady: candid pictures would be better than magazine covers, and we want to know the real Kangana; real life instances would make for a better read than a filmography which we can find on a zillion other sites. And, of course, KR trivia would be interesting, though beauty pageant answers are definitely not! Our review? While Kangna in person might not need a makeover, her website certainly does!