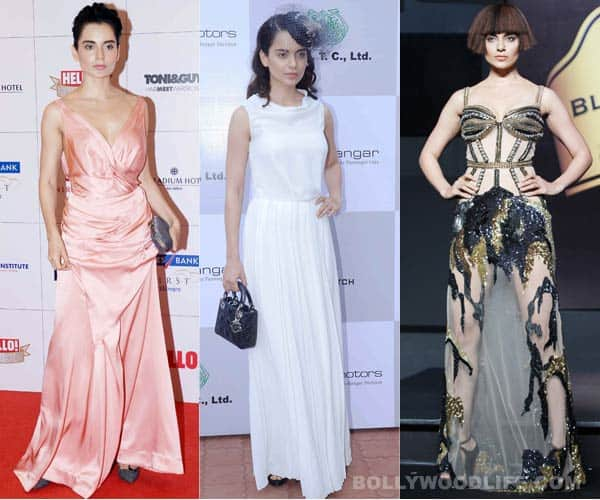 skip advertisement
The Krrish 3 actor's latest release Rajjo was a major box-office dud. But she isn't lamenting it. In fact, she still seems stuck in her mutant avatar in the Hrithik Roshan starrer
Over the past few days, each time we saw Kangna Ranaut, the first thought that came to our mind was that she's still so much into her Krrish 3 look that she is flaunting it everywhere. No, she isn't wearing that black leathery outfit – she's quite a chameleon and is seen in clothes that are suitable for the events she attends. However, these days her makeup seems completely inspired by her look in Krrish 3. Looks like she forgot to tell her makeup artiste that she's no longer shooting for the superhero film!
Let's take a quick look at her most recent appearances…
At the race course, Kangs was seen in a white Dior dress. She looked quite angelic…. till we checked her out up close. Her makeup was over-shimmery and it made her face look like plastic. But we won't deny that she grabbed eyeballs at the event. At the Hello! Hall of Fame Awards Kangna was spotted in a satin peach gown and the colour complemented her flawless skin. She looked radiant! But her hairdo again reminded us of her look in Krrish 3. We dunno how, but each time there's at least a wee streak of Kangna's mutant avatar in her appearance.
And here's the best example: Kangna Ranaut walked the ramp for Gavin Miguel wearing a risqué beaded dress. She looked sizzling hot in the gown that had a bustier covered with sheer fabric that flowing into the skirt too, with patches of sequins covering her various lady bits. The dress did complete justice to her fabulous body. But her look? Well, she was seen sporting a choppy geometric bob with crimped locks. Her eye makeup and coloured lenses added to the plastic-y look! In fact, this was a step further down the mutant road towards robotics!
BollywoodLifers, you tell us: Do you think Kangna Ranaut is stuck in her Krrish 3 mutant avatar?