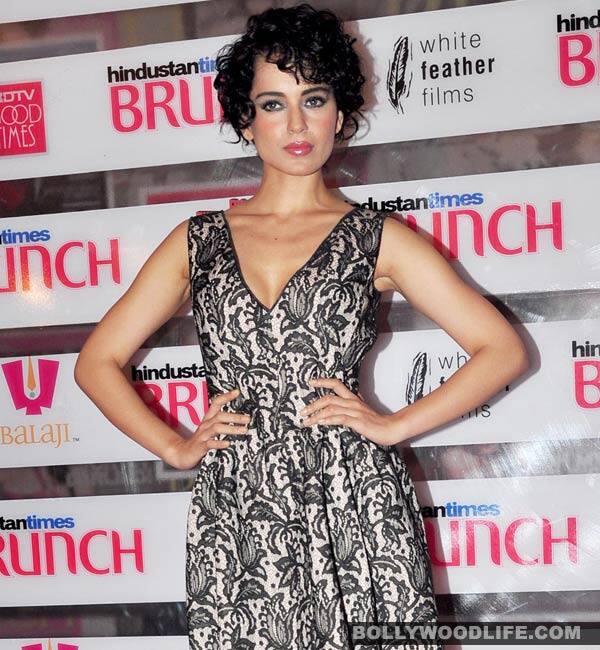 The Tanu Weds Manu actor has been secretive about many things in her life. While others are trying to dig deep into Kangna's personal life to find out more about her current love interest, we found exclusive dope on Kangy's biggest professional move yet!
This could be Kangna Ranaut's best kept professional secret ever! But we wonder why she has to keep it such a hush-hush affair. Though we know that Kangna has not been very comfortable discussing the mysterious man in her life, there's no reason why the Gangster actor should keep her professional choices so fiercely guarded.
A little birdie chirped to us that the 25-year-old actor is directing a film in Hollywood with American actors and crew. Though Kangna has been very vocal about her passion for direction, we never thought that she would keep her directorial debut under wraps. We hear that unlike our Bollywood masala entertainers, Ms Ranaut is directing a short thriller.
Now the gal's silence on her Hollywood directorial debut has us confused. While many of the small fry in the industry are making a hullabaloo over going international the moment they nab those elusive few seconds of fame in Hollywood, here's Kangna refusing to squeak a single word about her Hollywood project. Isn't that strange? What could be the reason behind that deadly silence of hers? We think that given the film choices Kangna has made in the recent past – Double Dhamaal, Rascals and Tezz, for instance – the young actor is getting very cautious about her new ventures and doesn't want to talk about anything before it actually happens.
We hope the curly-haired young lady will get over her inhibitions and talk openly about her love interests – both personal and professional – in the days to come. Will real Kangna please stand up?