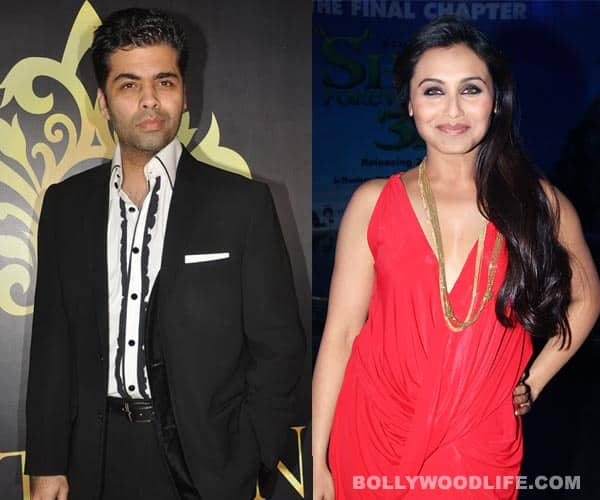 The career of the former Queen Bee of Bollywood has now slowly faded into almost-nothingness, especially after Aiyyaa fell flat at the BO. So is buddy Karan Johar lending Rani Mukerji a helping hand?
Rani Mukerji was once heroine number one in B-town. She grabbed all the plum roles and took home all the best awards after co-starring with the biggest biggies in the biz – Aamir Khan, Shahrukh Khan and Salman Khan. And then she started fading. One theory is that her 'friendship' with Aditya Chopra resulted in her being over-picky about her roles and choosing the 'wrong' films for that particular time in her career.
Just when everyone was starting to write her off, she came back very strong with No One Killed Jessica, even though Vidya Balan took a lot of the glory home with her. And then came Aiyyaa, which kind of went THUD very loudly at the box office, in spite of Rani's 'hatke' character and that gloriously buff bod that Prithviraj showed off so generously. There was some redemption in her role in Talaash – but Rani could always count on Aamir to make it all happen for her, no?
So does Rani have anything to do over the next year or so? From what we know, not a whole helluva lot. Sure, Karan Johar is directing her with co-stars Randeep Hooda and Saqib Saleem – aka Huma Qureshi's brother – in a new project, which got us all excited, since Rani is a fave with us at BollywoodLife, but then we discovered that it is a segment in an anthology called Bombay Talkies. And everyone and their uncle knows that Karan knows how to make Rani look super-gorgeous and hugely emotional, no? Will that be her saving grace and keep her in the forefront of a very crowded and tough race that is now Bollywood? Or will it be her guest appearance in the Rohit Shetty-directed Shahrukh-Deepika Padukone movie Chennai Express? Perhaps it will be her voiceover as Tina in Koochie Koochie Hota Hai, an animation film that has already been delayed beyond a reasonable time-frame. Who knows.
But whatever our lady decides to do, we expect her to do it with style. Like marriage to the rumoured lover of her life, Adi Chopra perhaps? If we find out more, you will too!