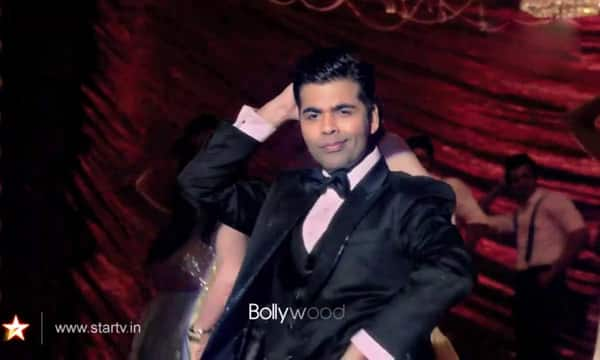 KJo loves naach gaana and his films are testimony to that fact. We have seen the director-producer show off his moves at various dos and on so many reality shows, but in the music video of his catty chatty celebrity show Mr Johar has gone not one, but quite a few steps further…
Have you seen the new video from the maker of Kuch Kuch Hota Hai and My Name Is Khan? It is the promo for the next season of Koffee With Karan, starting in January next year. Karan Johar's latkas and thumkas are as entertaining as his films. And we do love watching him groove in the typical Bollywood style, coz he is funny and at the same time can give a lot of item girls a run for their money. Okay, we stretched it a little too far with that one, but Karan Johar can dance, saala! Hai na? Though the Koffee With Karan (KWK) anchor said in an interview that his mother has asked him to stop dancing coz his moves are embarrassing to watch, wethinks he has taken it on as a challenge and has pulled out all the stops this time. Isn't that the reason why he has chosen the Broadway style in the music video for KWK? Well, we certainly hope that's the case, because for once we do agree with his mother. Watch the video and you will too!
We absolutely don't mind watching Shahrukh Khan's best buddy shaking his kamariya with a bunch of firang ladies. Believe us, it is paisa wasool if you have had a tough day. But if KJo is going to do that more often than once, he should take few lessons from Salman Khan at least, if not from someone else….anybody else. Sallu is one actor who does his own steps, no matter what the choreographer may have taught him, but he still manages to look cool, right? While we aren't highly impressed with the KJo's dancing avatar, a few celebs – mainly his buddies – have gone gaga over his performance. Here's what they posted on Twitter:
Farhan Akhtar: Born to do it. Having a blast & it shows!!
Abhishek Bachchan: I absolutely insist on Karan Johar choreographing my next song. Here's his show reel! Proud of u KJ
Shekhar Ravjiani: The LEGEND strikes again!!! Outstanding!!!
Watch the video and tell us what you think about Karan Johar's Broadway dancing
PS: We would love to watch KJo and Abhi – also not the best dancer in B-town – dance together to Maa daa ladla bigaad gaya…just for fun! Wouldn't you?
[jwplayer mediaid="284525″]