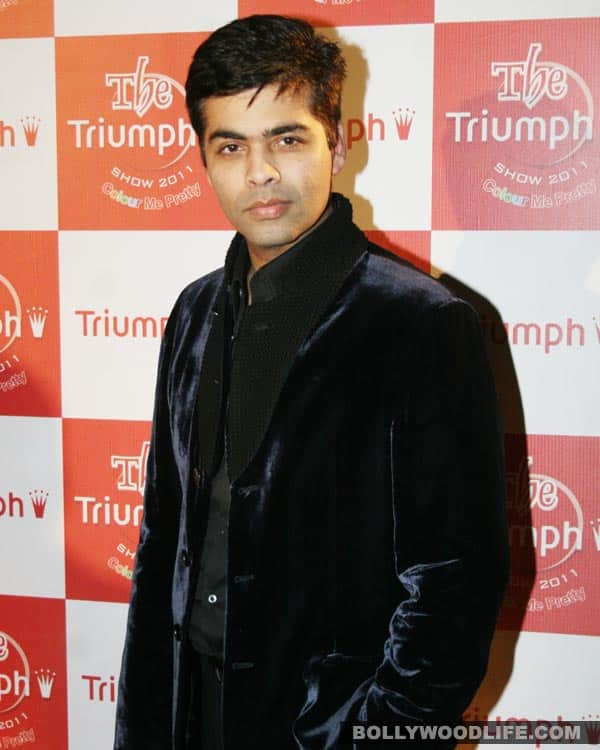 It surely looks like there is a dearth of expressions for the ace filmmaker who refuses to 'look' any other way. We dig in to find out what the real reason behind KJo's signature expression could be
We've seen Karan Johar raise the red score board to dish out marks on the popular dance show Jhalak Dikhhla Jaa 5. But there have been times when we got highly distracted from his comments and from the marks displayed on the board.
One good reason could be Karan's lack of sensible reasoning behind his judgments – and we won't blame you for nodding your intelligent heads in affirmation with this one. Why, in a recent episode, one extra mark was given to Karan Wahi just for being good looking. Sigh!
But there's another reason why we sometimes forget to look at the score board – Karan Johar's expressions!
After posing in front of oh-so-many shutterbugs, one fine day the prim and proper KJo zeroed in on his favourite snapshot look – eyes narrowed in scrutiny, head tilted a tad bit towards Mother Earth and turning ever so slightly to one side. Have you seen it? We bet you have, 'coz it's so hard to miss.
But why won't you let go of that look, KJo? Is it to hide the double chin that would be visible otherwise? Or do you fear that you would look nerdy with your eyes wide open – remember Karan as he was once seen in Dilwale Dulhaniya Le Jaayenge – and so you narrow them just to look sauve? Or are you a closet myopic who refuses to wear spectacles and has to narrow your eyes to focus on far away objects (or the camera)? Sigh! We so wish we had a clue.
But while we could force our hearts to accept that there might be only one angle from which KJo looks good and that's why he's so stuck on this diva pose, we fail to understand why the expression keeps popping up with the red score board in Jhalak Dikhhla Jaa 5.
Dear Karan, we're eager to solve the mystery of this narrow-eyed, tilted-head look. What is it that keeps you from flashing a sweet smile or showing off twinkling eyes when in the presence of the shutterbugs? Any clue, readers?