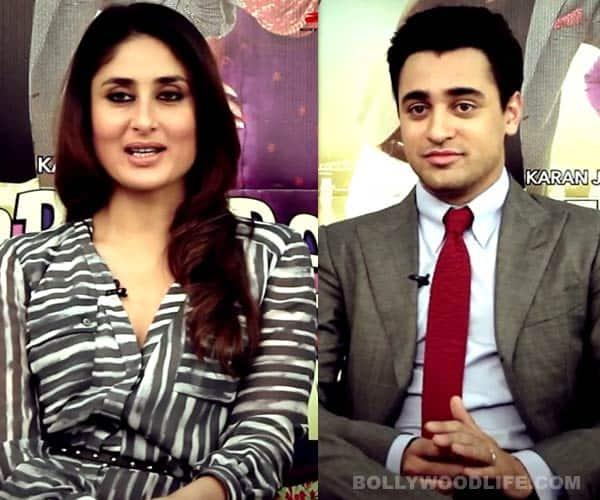 Bebo believes that the Khan dude knows many things apart from his glamorous profession and that has impressed her about Imran
Punit Malhotra's forthcoming release Gori Tere Pyaar Mein will bring Kareena Kapoor and Imran Khan together after the duo's romantic pairing in Ek Main Aur Ekk Tu. In fact, both Bebo and the honey-eyed Imran are bonding with each other a big time. The positive energy the two actors are exuding is remarkable. "Very few actors in the industry know what life is about. Very few people have knowledge about the things apart from the glamour world and Imran has that," said Kareena about her co-star.
About her role in Gori Tere Pyaar Mein, the good looking actor maintains that she is playing an activist in the movie. "My character wants to do many good things for the people around her," maintained Kareena. But that explanation makes us wonder if she is playing a style sensible activist in the movie. "Well, we have tried to keep the character as de-glamrourised as possible but since it's a Karan Johar movie we have tried to keep my attire very interesting. So we have added more colour to my wardrobe to make my character look more energetic," added Kareena.
Well, we certainly are looking forward to see this colourful, vibrant and energetic activist in Gori Tere Pyaar Mein. What about you BollywoodLifers?
[flv]http://st1.bollywoodlife.com/wp-content/uploads/2013/11/Kareena-Kapoor-interview.flv[/flv]