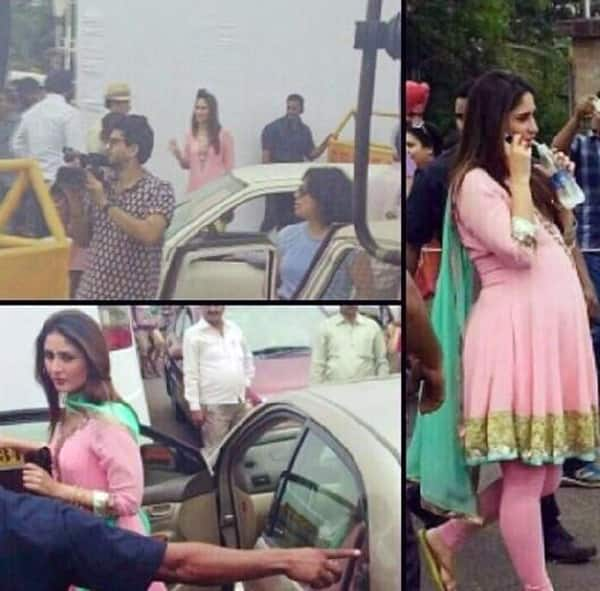 Yes, but only for her new film with Imran Khan, Gori Tere Pyaar Mein. Was it all an act?
So it was an exciting weekend. We caught a peek of Kareena Kapoor Khan (as she will be billed in all her movies from now on) with co-star Imran Khan shooting for Gori Tere Pyaar Mein in Navi Mumbai a few days ago. Yeah, we know, nothing overly special about that, since the mainland township is a filmi favourite. But what we saw kinda stopped us in our tracks as we aimed to hunt down a super-hot story for BollywoodLife.
Someone told us that KKK was preggie; yes, the lady who announced just a few months – or was it weeks? – ago that having a child with miyaan Saif Ali Khan was not a priority and may not even become reality was seen with a large bump in the tummy that could not be explained away by too much dal chawal for lunch or a few too many skipped yoga sessions. Kareena gonna be a mommy! Wow! Now this we just had to see for ourselves, we muttered as we headed to Kharghar, Navi Mumbai, where the shoot was in progress.
But…bleah…no truth in this particular matter, we discovered. Yes, she did have a baby bump. Yes, she did look like she was tired and bloated and irritated and all those lovely things that mums-to-be generally are so late into their pregnancy. But when we trained our telephoto lenses closer in, we saw something that really did not work. Kareena's bump was not nicely rounded and smooth like it should have been, but square, obviously a pillow that was the wrong shape and size. Her weight balance was wrong, she did not have that preggie waddle and no true-life mother would take her seriously…and neither could we. Yes, it was a movie shoot; yes, she is a realistic actor; yes, director Punit Malhotra is going to make a good film. We know all that. But two things niggle – the shape of that darned bump for one, and the irony of the situation for the other – the real-life Begum does not want babies, and there she is flaunting a bump in her reel-life avatar!
We are still wondering what to make of this one….