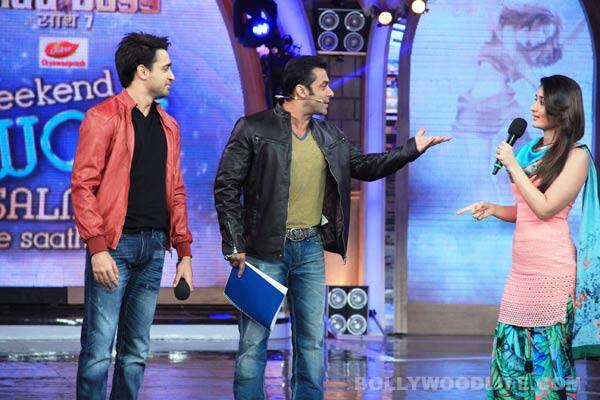 The Gori Tere Pyaar Mein duo was on Bigg Boss for the promotions of their film and here's what happened…
Kareena Kapoor Khan and Imran Khan were excited to be on Salman Khan's show Bigg Boss 7. Little had Sallu's Bodyguard co-star expected him to make fun of her the way he did. Was Kareena offended? We certainly think so, for by the end of this not so pleasant interaction between the Dabangg actor and the Fevicol gal declared, "Now it is confirmed, I will never come on the sets of Bigg Boss." Salman Khan's highhanded attitude was on full display when Kareena-Imran were on his show last weekend. Bebo has been a frequent guest on Sallu's shows be it Bigg Boss or then Dus Ka Dum. In fact, Salman has always been sweet to the actor until this season. Has success got on to Salman?
Bebo in jest had asked Sallu to not ask questions about hubby Saif Ali Khan or then her favourite Khan in Bollywood and one got to see SK's mean streak when he retorted, "But anyways who is talking about Saif Ali Khan? "If this wasn't enough to dampen the mood the Jai Ho actor refused to go shirtless for Imran and Kareena, he thought he would just rub off his lucky streak on Kareena's film. Whether Salman meant this playfully or not we don't know, but Salman didn't oblige instead this is what they got, "But why should I remove my shirt for your film?" How selfish Mr Khan, isn't it about loving your friends, Being Human??? We thinks, either Mr Khan's hiding his new look underneath sheets of suit clothing or then he just isn't in shape.
But what was the meanest comment of them all was when Kareena asked Sallu to rope her in Dabangg 10, Salman joked that Kareena would play his mother's role in Dabangg 10; was that a joke, really? That's when KKK said she would never come on Bigg Boss next time. As if targeting the contestants wasn't enough Sallu doesn't seem to even spare his Bollywood friends. Salman also added, "Who knows if I will be still hosting the show in the future?" With the way the actor is ruffling feathers now just with the contestants, actors but also with his fans, we really would not be surprised to see a brand new host in Bigg Boss in the next season. What say, BollywoodLifers?