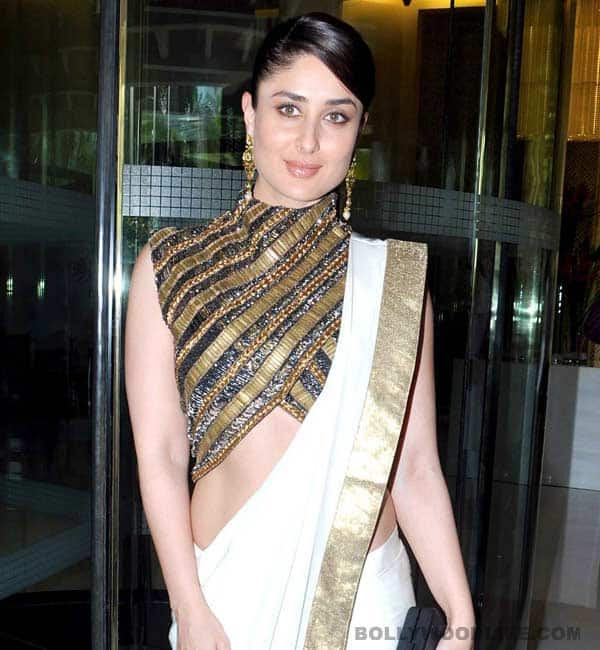 Ever since she got married to Saif Ali Khan, Bebo has been keeping it quiet on the work front. What's going on?
This morning we woke up to Karan Johar saying that Kareena Kapoor Khan may not be the lead female star in his Shuddhi. Which of course makes us wonder whether Hrithik Roshan will still be the leading man, but that is another story. According to KJo, KKK is like his little sister, but it would not be fair to her if he made her wait for as long as it is likely to take to get around to starting his new film with the Yaadein star. Makes sense to us, but it had us going hoppity-hop to a new question that has been bugging us. What is Kareena up to these days? She has no film being shot, her future assignments are being postponed and her Saifu is busy with his own work. Shuddhi is pushed back goodness knows how long. Bombay Samurai, Bebo's film with Dev Benegal co-starring Farhan Akhtar, is on hold for next couple of months. Her bit-part in her husband's Happy Ending is done and over with. Singham 2 is waiting for Rohit Shetty to finish his anchoring stint on Fear Factor Khatron Ke Khiladi 5. Gabbar is again a cameo. Last we heard, Kareena had no work in films for now and is busy with endorsement shoots and photo-features, the latest being with Dabboo Ratnani in Rajasthan. And that, BollywoodLife buddies, made us think…
Remember when Bebo was marrying her Nawab she insisted that her change of status would not affect her filmi career? Then why is it that ever since she became a Begum she has had very little to do? And what she has done – Heroine, Satyagraha, Gori Tere Pyar Mein, even Talaash, where both she and Rani Mukerji did minor roles compared to Aamir Khan – has not been of great significance, nothing rocking the box office in any major way. And now all the younger heroines are fast taking her place, be it Deepika Padukone and Katrina Kaif, or Sonakshi Sinha, Alia Bhatt and Parineeti Chopra. So we want to know, is Bebo choosing to defocus from her career and concentrate more on being a royal biwi? Or has her BO appeal and her 'pickiness' put the audience and filmmakers off her? Are people seeing her as a less accessible and more 'otherwise occupied' actor today? Is being a Mrs getting in the way of Kareena's being a superstar success?
Point to ponder, hai na?